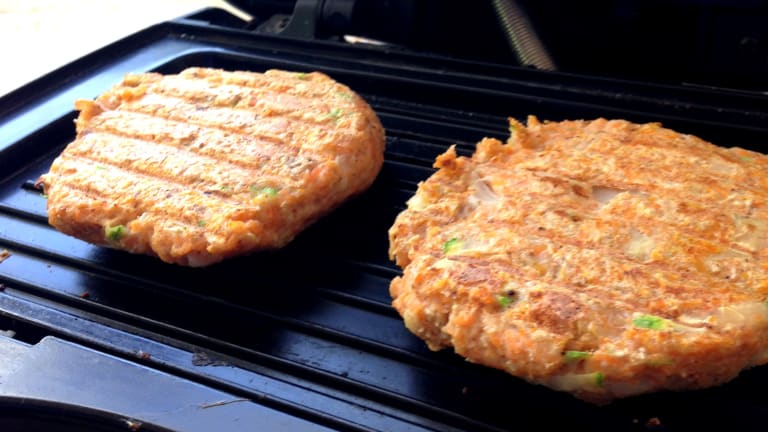 Everything But the Kitchen Sink: Cooking With Just a Sandwich Maker
Limited kitchen resources? Trying to avoid the frying pan? No worries, all you need is a sandwich maker to cook these delicious main dishes, and even dessert! Perfect for students in a dorm room, travellers, or a quick fix for busy parents.
MORE: Everything But the Kitchen Sink: Cooking With Just a Waffle Maker
This Grilled Pineapple is marinated with butter and sugar, then grilled indoors in a sandwich maker. An easy option for an after-school dorm room snack! Dress it up with Pavlova for a fancier dessert. 
Note: If you don't have fresh pineapple, canned pineapple chunks work just as well. If using canned pineapple, the fruit will be more wet: Decrease the amount of melted butter, or omit completely, as the juice from the can will provide enough liquid.
MORE: Travel Hacks: Kosher Cooking In Your Hotel Room
Instead of frying this recipe for Veggie Burgers, grill them in the sandwich maker! The result is healthier, less greasy, and lighter, but still full of flavor. Bonus: It's a great way to use up leftover veggie juice pulp!  
MORE: Grilling Indoors 
This delicious recipe for Jamie's Salmon Burger can also be made indoors! For a delicious twist, top with Mango Salsa!
MORE: Out Of The (Dessert) Box Grilling
Stuff your tortilla with any veggies, cheeses, and sauces you want, then stick it in the electric grill (sandwich maker), and lunch is ready in a few minutes! Great for a dorm room lunch or a quick fix at work.    
MORE: DIY Grilled Cheese Bar
GRILLED VEGETABLES WITH PESTO SANDWICH
Be creative with the vegetable you choose to grill for this recipe. All types of vegetables will pair well with the basil-based pesto.  Note: To save time, grill the veggies in the sandwich maker for a few minutes, then prepare the sandwich and grill all together.
MORE: Brown Bag Lunch Ideas
This recipe makes tofu a main component of any meal. Once drained well, tofu achieves a very firm, meat-like consistency and is incredible grilled, especially as it soaks up all the flavors of the rub. Note: Although this recipe calls for a grill pan, it can be made just as easily in a sandwich maker!
Want stories like this delivered right to your inbox? Sign up now for our *free* JOY of KOSHER Newsletter.