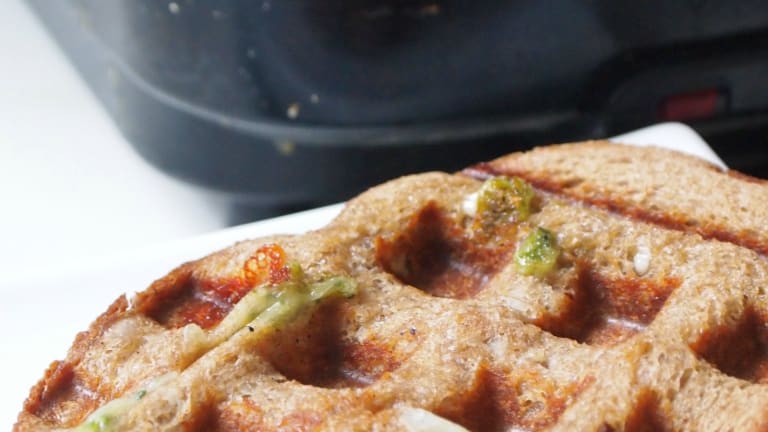 Cooking With Just a Waffle Maker
When you are on-the-go (or living in a dorm room!), you don't always have a full kitchen at your disposal.
But did you know that with just 1 electrical appliance, you can make lots of different yummy and easy meals?! With your handy dandy waffle maker, you can make more than just waffles! Here are just a few waffle-maker ideas...
Pizza 
Quesadillas 
Quiche 
Cookies 
Brownies 
Hash browns 
Eggs 
Grilled Cheese
Pizza Waffles (contributed by Renat Maryles Kfare)  
" I took pizza dough, put it directly into the waffle maker with sauce and cheese, then covered it with more dough and then closed it."
Below, we have rounded up all the recipes that will work in your waffle maker.  Try these recipes in the waffle maker, and let us know the results in the comments below!
WATCH: How to Make Homemade Pizza Dough
CHARD AND POTATO WAFFLE HASH BROWNS
The fastest, easiest, best hash browns are made in the waffle iron.  All you need are some shredded potatoes, salt and pepper and oil and your breakfast dreams can come true.  This recipe adds a little chard for color and nutrition. 
PESTO AND MOZZARELLA WAFFLE SANDWICH
Make this gooey Pesto and Mozzarella Waffle Sandwich in your waffle maker in just a few minutes. So much more fun than grilled cheese!    
The Falafel Waffle can be topped with homemade tahini dressing, Israeli cole slaw, and Israeli salad.      
FRENCH TOAST MATZO WITH DILL CREAM CHEESE
Although not a traditional matzo brie, this French Toast Matzo with Dill Cream Cheese recipe is absolutely amazing for brunch or even breakfast for dinner. The French toast is 3 layers and uses fresh dill. With the elements you can't go wrong!!
BLUEBERRY AND CHEESE QUESADILLAS
 My Blueberry and Cheese Quesadillas make for a lovely summer lunch. Filled with blueberries, sliced peaches, goat cheese, red onion and thyme you can savor them warm or at room temp. In Israel (or anywhere else for that matter) you can skip the blueberries and instead add sliced plums, strawberries or even pitted cherries.
Aunt Vennie's Kale and Red Pepper Quiche is pure kosher soul food. This savory quiche is pareve, but full of flavor.  
When you need a cake but don't have time or energy to get complicated, these one-bowl brownies are the answer. Don't just save them for emergencies though. They're always a great treat and can be either dairy or pareve.  
Slice and serve wedges out of this hearty and pretty frittata— just divine with a dollop of sour cream and a touch of salsa.    
DOUBLE GRILLED CHEESE WITH SEASONED FRENCH FRIES
MORE: 15 Travel Friendly Recipes
More not-so-traditional waffle recipes:  
Want stories like this delivered right to your inbox? Sign up now for our *free* JOY of KOSHER Newsletter.