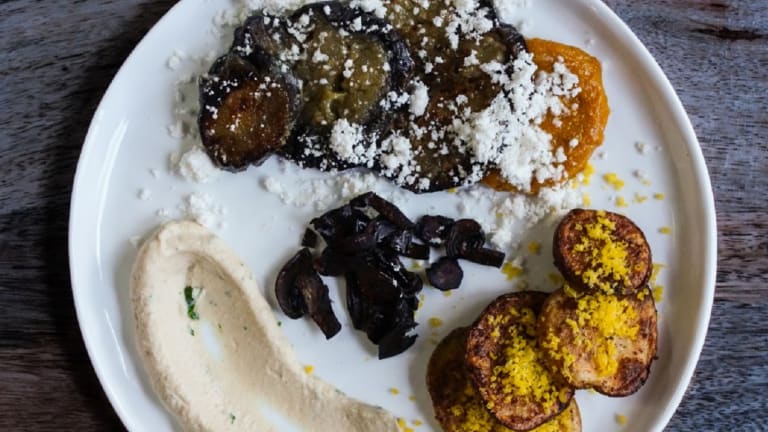 Deconstructed Sabich: An Israeli Favorite with a Modern Twist
Sabich is an Israeli street food of fried eggplant, hard boiled egg, and (sometimes) boiled potato stuffed in a pita, and that's before all the fixings. This circus in a bread pocket offers sundry launching points for exploration...Like Israel itself, this dish a lively and warm mix of tradition, innovation, and pursuit of harmony.
When planning a meal themed around Israeli cuisine recently, I knew I wanted to start with sabich as an appetizer, but in a form more suited to a dinner table than a street corner. With so many different components, preparations, flavors, and textures, sabich lends itself very well to interpretation. In particular, my Asian and Modernist Cuisine influences had a strong hand in shaping this dish. I was excited to brainstorm, and honestly pretty nervous about how it would all come together. Each part stands on its own and can be prepared as a separate dish, or as components in this composed dish. 
The eclecticism of the traditional sabich is preserved in the mix of chewy, creamy, crispy, and melty textures. The flavors, too, arrive as an ensemble of savory, tangy, piquant, and vegetal sweetness, to pick a few. Each part of the plate works on its own... When taken all together, there are myriad combinations of components to try together, and they generally complement each other.
For plating tips plus more recipes, see the instructions at A Jew's Bouche. 
MORE: The Secret Behind Israeli Street Food
Although I love cooking sous vide, I wanted this eggplant roasted. I adapted Kate Williams's recipe for a purely oven-centric approach, and modified the glaze to my taste.  
MORE: 3 Healthy Asian Inspired Dinners
I've been using cauliflower a lot the last few years and have found it to be so versatile. In different forms it becomes an excellent substitute for other foods. Here, I use roasted cauliflower as a stand-in for chickpeas in the traditional hummus. When planning new recipes, I like to do a lot of research, compare other recipes, add my own influences and time-tested techniques, and synthesize them into my own. Cara Mangini's recipe is a great starting point.    
MORE: The Ultimate Guide to Israeli Salad Spreads
These Sumac Roasted Potatoes are crispy on the outside and tender on the inside. Sumac provides a tangy, lemony flavor (you can also spot in za'atar), and I temper this brightness with smoked paprika.   
MORE: Gourmet Desserts Inspired by the Shuk in Jerusalem
There are lots of ways to approach a vegan bacon. You can make it out of seitan or tempeh, smoked mushrooms (oyster or shiitake mushrooms are great for this), even chickpeas or eggplant. In this case, I used regular button mushrooms and a simple marinade from Kim at Fit for the Journey.  
MORE: 3 Flavorful Recipes from Israel
Want stories like this delivered right to your inbox? Sign up now for our *free* JOY of KOSHER Newsletter.