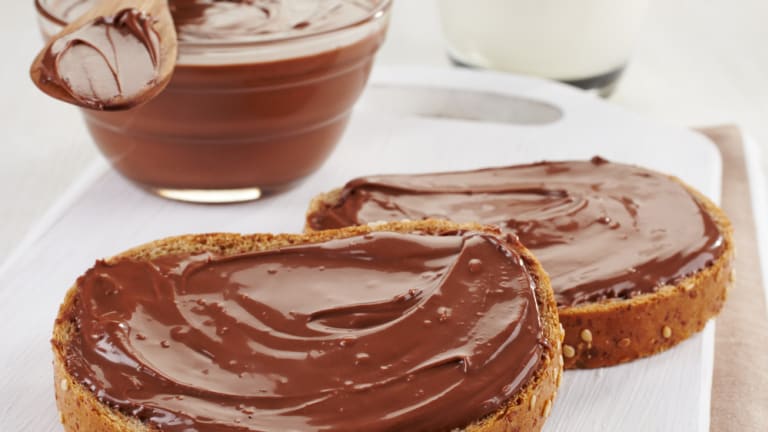 DIY Dreamy Creamy Chocolate Spreads
These make-your-own chocolate spreads are so creamy and dreamy that you will want to spread them on everything! You can spread them on sandwiches, crepes, bagels, pancakes, and more, or use as a dip, like fondue. In Israel, it is very common for children to take a chocolate spread sandwich to school in their lunchbox...After you try these yummy spreads, you might find yourself joining the tradition as well!
This Healthy Chocolate Spread is so delicious and chocolatey you won't even notice it's made with healthy ingredients. It's also a great dip for fruits and crackers when you need a quick chocolate fix!  
MORE: Chocolate and Your Health
  Try something new on your bagel: this chocolate cream cheese spread.
MORE: Best Schoolbox Lunch Ideas
With this combo of chocolate, orange zest and cream cheese, your bagel never had it so good.  
MORE: Fun and Healthy Treats for Kids
HOMEMADE CHOCOLATE HAZELNUT SPREAD (Dairy)
This homemade spread is better than store-bought brands because it is non-hydrogenated and made with high quality chocolate. Do not skimp on the chocolate and your spread will be an addicting schmear for everything from toast to apple slices. 
MORE: How to Cook With Your Kids, Stress Free
Take some hazelnuts, grind them finely and mix in some chocolate and sugar and you can't really go wrong.  
Looking for more great ideas beyond the sandwich? Try your chocolate spread in these delicious recipes:
Want stories like this delivered right to your inbox? Sign up now for our *free* JOY of KOSHER Newsletter.