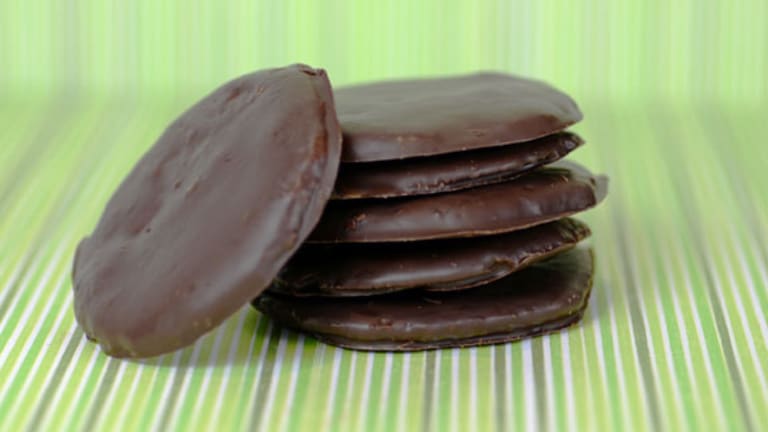 DIY Girl Scout Cookies: Paleo and Gluten-Free
Editor's Note: There is so much to love about Girl Scout Cookies, not to mention the nostalgia. Everyone seems to have their favorite flavor! Now you can enjoy them at home, Paleo and gluten-free. Plus, you don't have to wait for the Girl Scouts to come knocking at your door- by the time they do, your cookies will already be baking in the oven!
See an ingredient you aren't familar with? Check out Elana's guide to ingredients. 
MORE: What is Paleo? 
These Girl Scout cookies are called Peanut Butter Patties or Tagalongs, and guess what? I've made them gluten-free and Paleo. Now you can enjoy more gluten-free, Paleo Girl Scout Cookies. No need to give in to cravings for the regular (sugar-filled, gluten-filled) Girl Scout Cookies which are everywhere this time of year.  
MORE: 10 Candy Recipes
Don't be sad that it's Girl Scout Cookie season, because now it's gluten-free Girl Scout Cookie season, and you can partake in gluten-free Thin Mints. You can even dive into Paleo Girl Scout Cookies, otherwise known as Paleo Thin Mints.  
MORE: Bake Don't Buy! Shabbat Worthy Cakes
This recipe for gluten-free Paleo Girl Scout cookies is based on one from the wonderful cookbook Paleo Indulgences by Tammy Credicott... My favorite part of this gluten-free Paleo Girl Scout cookie recipe? The vegan caramel sauce recipe that Tammy includes in it, which is a true piece of culinary genius.  
MORE: 3 Guilt-Free and Gluten-Free Treats
Photos and recipes posted with permission from ElanasPantry.com
Want stories like this delivered right to your inbox? Sign up now for our *free* JOY of KOSHER Newsletter.