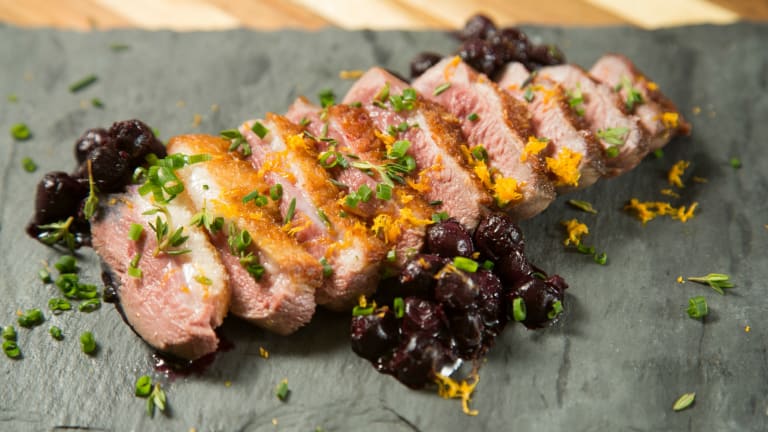 7 Genius Ways to Cook Duck At Home

Truth be told, duck recipes are not among the more popular searches on our site. It is not so easy to find kosher duck, especially if you don't want to cook a whole bird. Most people don't know how to cook duck and don't want to spend the money only to ruin it at home. 
Now you can get duck any way you want it — duck breast, duck legs, duck bacon, and even duck rillette. Plus, we have recipes for every kind of duck you want to try. 
If you are still afraid to cook a duck, try duck rillette. Rillette is a preparation of meat similar to pâté and is best eaten as a spread on bread, so all the work is already done for you. However some delicious accompaniment like Balsamic Cherries won't hurt anyone. 
You can also get the flavor of duck in any of your foods with duck fat. Find the recipe you want to make below and get your duck from Pelleh Poultry, a boutique poultry supplier located in upstate New York. If your local kosher market doesn't have these duck products, ask them to order it from Pelleh Poultry.
SEARED DUCK BREAST WITH BLUEBERRY AIGRE-DOUX
The combination of sweet and sour in the Blueberry Aigre-Doux with Seared Duck Breast is both beautiful and delicious.  
DUCK RILLETTE WITH BALSAMIC CHERRIES
Duck Rilletes are delicious and decadent. A shmear on a toasted baguette makes an elegant party starter for any celebration.
This easy recipe gives you the delicious taste of Peking Duck without the hassle of cooking a whole duck.  
CLASSIC SOURDOUGH STUFFING WITH DUCK BACON AND SAUSAGE
Make Classic Sourdough Stuffing with Duck Bacon and Sausage part of your Thanksgiving menu.  
BUTTERNUT SQUASH ALFREDO WITH DUCK CHERRY SAUSAGE  
This is a great light recipe when you're not quite ready to say "goodbye" to summer but excited to say "hello" to fall!
STUFFED ACORN SQUASH WITH ITALIAN DUCK SAUSAGE
For those cold fall nights, this acorn squash recipe has just enough kick to warm you up.
ULTIMATE DUCK BACON, LETTUCE, AND TOMATO SANDWICH
  Try the kosher version of the BLT, with duck bacon, lettuce, and tomato.  
Want stories like this delivered right to your inbox? Sign up now for our *free* JOY of KOSHER Newsletter.