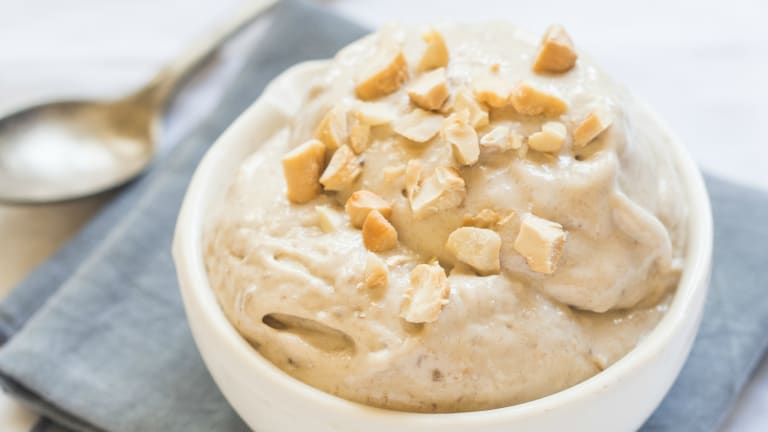 Easy Raw Vegan Ice Creams That Will Make You Feel Divine
These 3 raw vegan ice cream recipes have pleased the pickiest eaters I know. While they may sound so incredibly simple, they are actually an amazingly delicious mock version of real soft-serve ice cream.
And why do I prefer raw vegan ice cream?
Dairy ice cream is full of antibiotics, preservatives, and animal fat, which has been found to raise the risk of cancer, heart disease, and diabetes. It is extremely acidic and toxic to our bodies.
These 3 ice creams are drenched in goodness. And don't let the fruit scare you. Fruit is a HEALTH FOOD – the fiber in it cancels out sugar, meaning that it doesn't raise your blood sugar levels, and absorbs slowly, giving you all-day energy. It is full of mineral and vitamins, and carbs are the basis of what makes our body run – the basic units of its energy needs.
These recipes are perfect for summer, and kids will absolutely love them! They are sweet, juicy, and fulfilling. I recommend having them BEFORE your meal. Why? They will better digest that way, and will aid you in cutting down sugar cravings.
These recipes are part of my Raw Vegan Ice Creams ebook. The ebook includes 26 raw vegan ice cream recipes that are all extremely quick to make (20 minutes tops!), delicious, and completely natural.
You can download the ebook here
MINT CHOCOLATE COOKIE DOUGH CREAM
I love that this dessert is low fat, but still gives you that extra delicious and fulfilling power of the minty cookie dough. It is very grounding, and perhaps better saved for a special occasion since it is just a tiny bit more work. This recipe provides 4 times the needed amount of cookie dough, unless you like more. But you can definitely make yourself extra and save it for later.
MORE: The Best No-Fail No-Bake Vegan Desserts
Maca powder is an incredible hormone balancer, research-proven to aid men and women to improve their hormone function. Click here to read about Maca and some more recipes to help you incorporate it into your diet.
MORE: Mean, Green, Vegan Pistachio Ice Cream
Coffee is extremely acidic for the body. Instead, I recommend trying this ice cream. It contains caffeine in the matcha powder, but this caffeine is alkalizing, and slow releasing, meaning you will get sustained energy rather than peaks and crashes.
Want stories like this delivered right to your inbox? Sign up now for our *free* JOY of KOSHER Newsletter. 
Main image: plain raw vegan banana ice cream, the basis for all the recipes