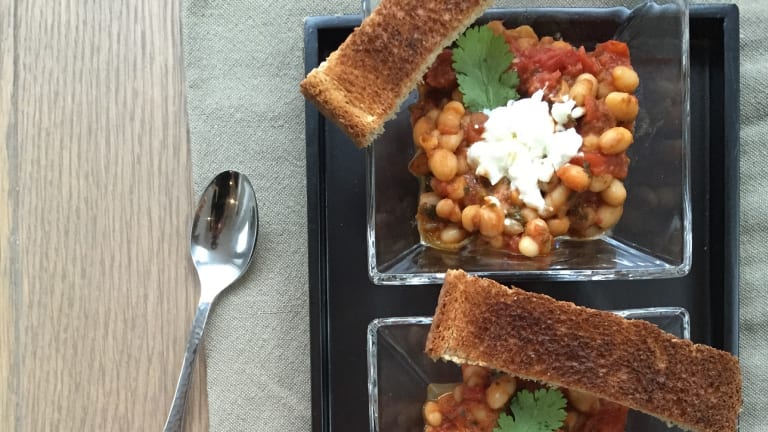 Easy Vegetarian Warming and Comforting Weeknight Meals
Editor's Note: Stay cozy this winter with these deliciously comforting and easy to make warm winter weeknight meal ideas. No meat, no problem!
WHITE BEAN STEW WITH GOAT CHEESE
This White Bean Stew with Goat Cheese recipe is an easy weeknight meal that everyone loves. The stew combines delicious winter flavors that are slow cooked in tomato sauce and infused with a touch a cumin. The goat cheese on top brings the final touch to the dish to add a deeper flavor.    
MORE: 10 Healthy Mains and Worth-It Desserts
STUFFED PEPPERS WITH RICE AND MUSHROOMS
Meatless dinners in the winter are not very easy to put together. While trying to make a satisfying and delicious dish at the same time, proteins in the form of fish, meat or eggs are always a first option. But this recipe brings together unique flavors!      
MORE: Serve it in a Pumpkin...3 Meals in Pumpkin Bowls
I wanted to make something different than the usual quiche, using a different type of cheese and also vegetables. Ricotta is light in texture and also the taste is not overwhelming. I mixed it with a couple of sauteéd vegetables and topped with a sprinkle of parmesan. The quiche is crustless because I like to keep this dish light so I can enjoy dessert afterwards.    
MORE: 3 Warm Winter Salads: Healthy Comfort Food
I enjoy baking biscotti when the weather starts cooling down because it goes perfect with that afternoon coffee. I used silan (date syrup) to reduce to amount of sugar but keep the sweetness to this delicate afternoon treat. Featuring pecans and orange, this is the perfect biscotti!  
MORE: 18 Comfort Food Recipes for Your Slow Cooker
Want stories like this delivered right to your inbox? Sign up now for our *free* JOY of KOSHER Newsletter.