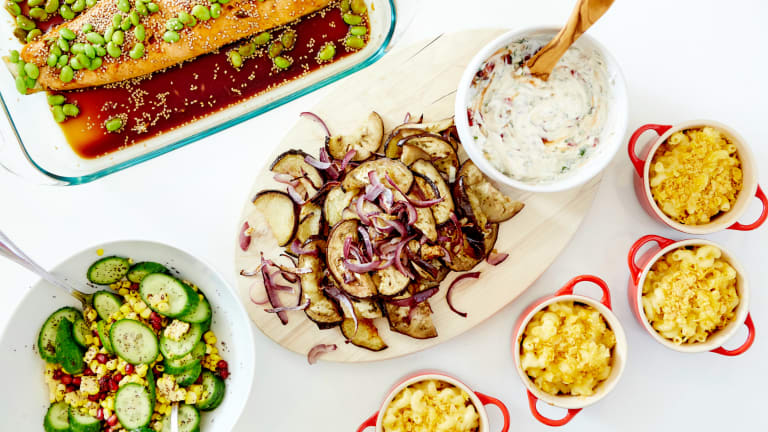 Dinner with Kim Kushner
We can learn so much by watching experts in their natural environment, especially when it comes to cooking. For this article I ventured into Kim Kushner's Upper East Side home to watch her cook the most challenging meal; DINNER.
One of four siblings, Kim grew up in Montreal with a Moroccan mom who was a great cook; she always got pulled into the kitchen with both her immediate and large extended family. After getting married and moving to Manhattan 13 years ago, Kim attended the Institute of Culinary Education to hone her self- and family-taught skills. After culinary school, Kim worked as a private chef, also getting involved on the editorial side of dining at prestigious publications like Food & Wine and Chile Pepper magazines. Slowly, her food journey evolved into a new role: highly sought-after cooking class instructor. In true New York style, she even offered cooking classes for nannies. 
After years in and around the kitchen, she teamed up with (family friend and) food photographer Andrew Zuckerman to publish her first cookbook. Titled The Modern Menu, (Gefen publishers) it debuted to great accolades. 
With all the buzz, I was really looking forward to meeting Kim and snagging some of her culinary secrets. Her kitchen itself is incredible (it was even featured in The Kitchn, a wonderful new cookbook). It's all white and modern, yet warm, inviting and family-friendly, with a cozy island extension where her husband and three young children eat dinner most nights. As a mother of two young children with two opposing palates, I wonder aloud how Kim prepares dinner for her kids, and her non-apologetic approach is refreshing. "When I am asked what's for dinner?" she laughs. "'Dinner!' is my constant response." Exposing her children to fresh ingredients from a young age without offering any substitutions has established healthy eating habits and a comfort in trying new ingredients. "My kids eat almost everything as they have eaten the same foods us adults enjoy from a young age."
Just like her ideas about feeding her family, Kim's cooking style is clear from the get-go: approachable, modern, and easy. "I like when you look at a dish and see all the ingredients," she states, adding that all the recipes she's cooking today will be featured in her upcoming cookbook, The New Kosher, which is the first kosher cookbook to be published by Weldon-Owen under the Williams-Sonoma brand. Kim shares a preview of her book with me; the photos are stunning, and after sampling the dinner Kim cooks, I find myself looking forward to getting my hands on my own copy.
"There is a myth that kosher food somehow tastes  different," Kim explains. "When I went to pitch the  book to the publisher, I brought a batch of biscotti  and they loved it. In fact, the whole time we were shooting for the book, the team was constantly surprised that the kosher food being featured tasted as good as it did!"
Kim cooked the entire dinner below in about an hour, all the while plating the food for the photographer and answering my barrage of questions (a testament to the ease of this dinner menu, not to mention Kim's multi-tasking abilities). Simple, seasonal, fresh ingredients, prepped in a way that highlights their looks while tasting incredible: the true definition of modern, kosher food.
CUCUMBER AND POMEGRANATE SALAD WITH POPPY SEEDS AND CORN 
This is a major crowd pleaser and a super easy salad. Both kids and adults go crazy for it. Serve over basmati rice, and you're good to go!   
ROASTED EGGPLANT AND RED ONION WITH YOGURT, SILAN, AND POMEGRANATES
The eggplant and red onion combo bring out some superb flavors and the cool yogurt sauce adds that extra burst of flavor. I love the addition of pomegranate seeds, but they are by no means necessary.
This recipe is super-simple and classic, but if you want to take it to the next level, it is easy to do so. You can add pesto, chili pepper flakes, truffle oil, and sesame oil, to name a few.  
Simply bake the salmon at a high temperature, pour the garlic-tamari dressing over and sprinkle the crunchy, bright edamame right on top! It doesn't get easier than this.   
CHOCOLATE CHUNK BISCOTTI WITH LAVENDER
These beautiful cookies combine the light, dreamy flavors of lavender, vanilla, and chocolate—which together create a sublime cookie that will amuse your senses. To release the delicate lavender flavors, rub the lavender between your fingertips, allowing the petals to break up and crumble. Divine!     
Make Ahead Tips:
Keeping in mind how the best dinners (for us busy moms) are  quick dinners, Kim chose recipes that have make-ahead steps.
1.  Mac and cheese can be made in advance.  Freeze and reheat when needed.
2.  You can bake salmon in the morning and prep dressing  in advance. Put dish together in five minutes.
3.  Biscotti can last for a few weeks in a sealed container.
4.  Yogurt dipping sauce can be made ahead. Add fresh ingredients (pomegranate seeds and herbs) right before serving.
5.  Prep salad ingredients and dressing in advance.  Mix before dinner.
Article published in JOY of KOSHER with Jamie Geller Shavuot 2015. Subscribe Now.
Want stories like this delivered right to your inbox? Sign up now for our *free* JOY of KOSHER Newsletter.