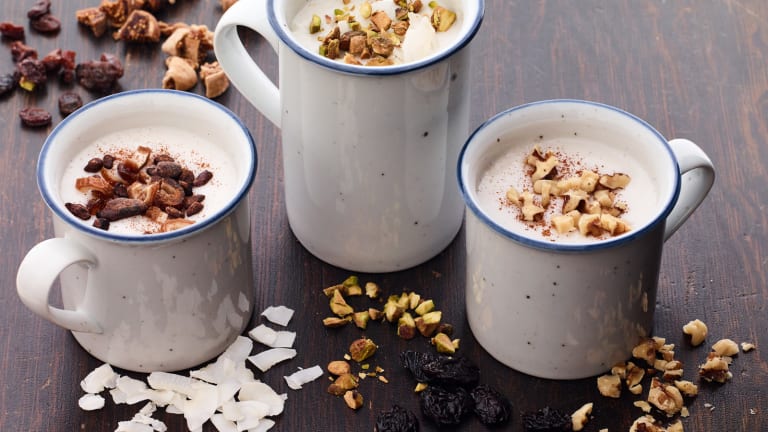 Five Healthy Hot Drinks To Replace Coffee
I enjoy hot drinks throughout the year, but come winter time I can't get enough.  I find they not only keep warm, but they keep me from snacking and even can satisfy my sweet tooth.  Ok sometimes I include a piece of dark chocolate with my tea, but that is still better than a bottomless bag of cookies. 
My standby hot drink to keep my hands warm is a selection of herbal, black and green teas, but when I want something with a little more substance to replace my coffee in the morning or an afternoon pick me up or a late night treat I look to these 5 recipes for a sweet treat that feels indulgent, but also comes with extra nutrients. 
I love myself a good spicy chai tea with milk and honey.  I also add extra ginger and black pepper to any blend, which I love for taste, but is also quite healthy.  In this recipe we get an extra boost from a little bit of healthful pumpkin puree.  Fiber and vitamins will fill your mug. You can even keep it caffeine free with a rooibos tea blend. 
One of my favorite drinks to enJOY in Israel, but when you make it at home you can control the amount of sugar and add even more toppings.  This drink can be made with any kind of milk, the thickening comes from the cornstarch, so keep it lighter or heavier based on the milk you choose.  Same with the toppings, cover it with nuts and even dried fruits when you want it as a satisfying snack, or limit it to cinnamon and coconut for fewer calories. 
Turmeric and ginger and have been found to both decrease inflammation.  This is a great mix you can prepare in advance and add to your daily routine. Keep it light with almond milk and let it reduce your pain. 
A simple hot cocoa with the added health benefits of extra cinnamon is our answer to your chocolate fix.  Low calorie and very satisfying, this hot cocoa will help get you through cold nights without affecting your waistline. 
Because I know you love chocolate as much as I do, I had to share one more hot cocoa that actually uses bone broth!!! I know it sounds crazy and you have to make the bone broth, but it is super healthy and a nice different way to include it in your diet. 
Read more about the health benefits of bone broth here. 
If you're not quite ready for a chocolate bone broth drink then get our SUPERFOOD HOT COCOA recipe when you subscribe to our newsletter, right here.