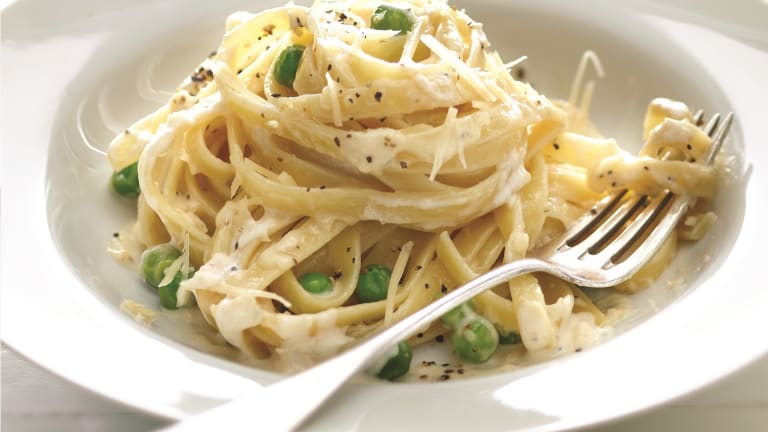 Freezer Stock-Up: Complete Meals to Make in Advance
One of my MIL's favorite stories about me is how I bulk cook, especially when I am (over)due. She recalls coming to my house and watching me stir muffin batter in my ginormous challah bowl and then dolling out 326 scoops of said batter into individual muffin tins all while dripping all over my ginormous belly.
Among other eccentricities, I am known to make 20 quarts of soup in one fell swoop and then straining and freezing the stock in 20 (1-quart) containers.
Prepping for holidays, company, baby, or other family simcha can be stressful. And since I can't afford a sous chef, I've nominated my 2nd freezer for the job.   
  Here are my picks for freezer friendly meals that can be made mostly or completely in advance. Stock it up and stock it in– you can thank me (and yourself) later.    
WATCH: Q&A With Jamie- How to Make Ahead and Freeze
You've got two options here. Freeze the batter, blueberries and all, for fresh pancakes to order OR freeze ready-made pancakes. Just thaw and nuke for hot cakes in a flash. 
MORE: How to Make the Best French Toast
Freeze the sauce plus peas in servings per 1 pound box of pasta. Thaw, warm and toss with fresh fettuccine for dinner.
WATCH: How to Make Easy Spinach Noodle Kugel
CHICKEN POT PIE WITH HERBED DROP BISCUITS (Watch the video on NBC here!)
This whole baby freezes beautifully. 
MORE: Individual Hand-Held Pot Pies
Better frozen and rewarmed!!! Serve over egg noodles with a side of salad for a well balanced supper.
MORE: Short on Time- Recipes to Make Your Life Easier
Want stories like this delivered right to your inbox? Sign up now for our *free* Jamie Geller Newsletter.