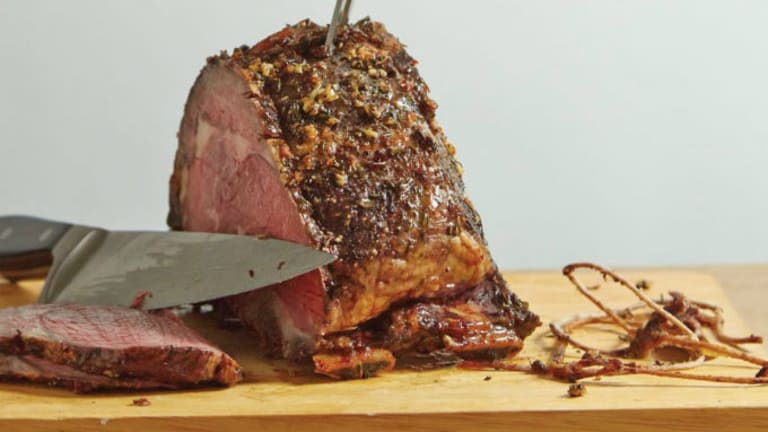 BBQ Grilling Tips From the Experts
With the kosher market expanding rapidly in every area, barbecuing is  no exception. True wood-burning BBQ is now being offered to kosher  consumers throughout the country. We reached out to some of the experts who shared their favorite easy recipes and secret tips.  Now you too can pull off a spectacular BBQ wherever you find yourself. 
All recipes can be adapted for indoor cooking as well.
Expert 1: Isaac Leizerson
Leizerson was born and raised in South Florida, and went to New York to attend the New York Restaurant School. Shortly after graduating, he began to build a custom wood-burning BBQ pit and launched The Hickory BBQ in 2013. The Hickory BBQ is a takeout and catering company located in Woodmere, NY that specializes in authentic southern barbecue. With items on the menu like smoked brisket, ribs, and perfectly cooked chicken, it has become popular for Shabbos takeout.  More information can be found at TheHickoryBBQ.com.
Watermelon is a great fruit for the grill. Grills best when left in large planks or strips. The watermelon's flavor develops once grilled and becomes center stage in this summer salad. 
Have leftover watermelon from Shabbos dessert? Use it on Sunday's grill!  
This flavorful grilled salmon dish goes great with everything. For those without a BBQ, this also works in a grill pan or frying pan.  
Isaac's BBQ Tips
Ensure your grill is lubricated by heating up your cooking surface and applying some oil with an onion or rolled up paper towel and some tongs.
Flare Ups
If you can safely remove greasy food from the grill, do it. If not, close the BBQ lid, as this removes air from the fire which helps extinguish the flames. Additionally, baking powder is a good item to have on hand for putting out fires. Having some water in a pitcher or squirt bottle is a good idea as well.
Cleaning Tips
Using salt to absorb the grease and oils collecting on the bottom of your grill is helpful, just remember to rinse and wipe it off before using the grill.
Smoking Tips
For added flavor we use cherry and oak wood for our cooking. You can add these flavors by simply buying some wood chips from your local Home Depot and soaking them overnight. Use heavy-duty aluminum foil and place the wet wood chips on the foil, fold it up, poke some holes with a knife, and place on side of your grill. When the smoke stops just make another pouch and repeat for added flavor.
A special occasion roast for any meat lover, you really do not want to cook it wrong. This is a sure fire recipe that is always a hit.
Expert 2: Chef Ari White
Chef Ari White runs a catering company, Gemstone Catering, in Riverdale, NY, and simultaneously revolutionizing the kosher BBQ scene with his award-winning BBQ company, the Wandering Q. Visit gotcholent.com for more information.  
A fantastic summer treat that's fun and really, really  easy is one of my favorite throwbacks to the good  ol' days at Ari's Kosher Deli in the Heights.
GRILLED PEANUT BUTTER SANDWICHES
The bread develops a crunchy exterior with a gooey peanut butter center. Peanut butter is a classic flavor that can be paired with many other flavors. Have fun and use some of our suggestions or make your own.    
Expert 3: Steven  Weinberger
Steven Weinberger is an avid  outdoor cook, well versed in grilling,  smoking, barbecuing, roasting, and  more. He has competed multiple times  at the ASBEE Kosher BBQ Championship  in Memphis, Tennessee, as his  alter-ego Fleish Gordon. No longer  competing, he judges at Kosher BBQ  events and wins pickle-eating contests.
You might have heard of "beer-can chicken," but this version matches the tang of ginger-ale with classic Asian flavors. Cooking a chicken in the upright position of "sitting" on a can results in moist meat throughout.  
Expert 3: Yuda Schloss, aka Hassid Hipster
Yuda Schloss is the co-founder of The Fresh Diet,  and is also known for his Brooklyn pop-up hassid+hipster. 
The tahini-coconut sauce ties in the Israeli and Caribbean flavors of this unique and exotic grilled chicken.  
Article published in JOY of KOSHER with Jamie Geller Summer 2014. Subscribe Now.