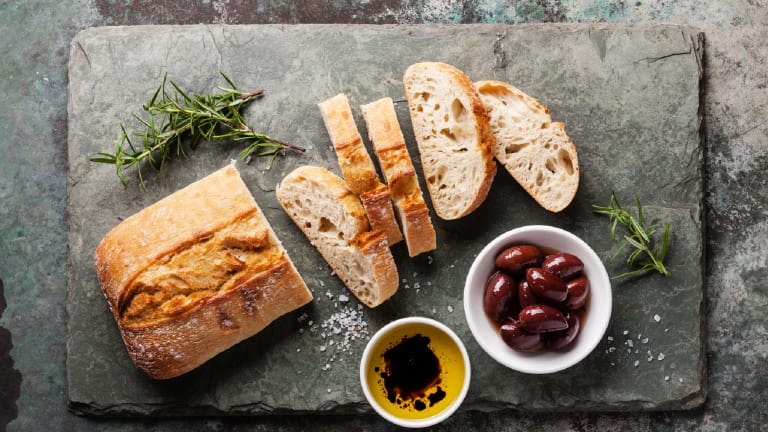 Get The Health Benefits of Olive Oil With These Recipes
Since moving to the Galilee region in Israel, we've naturally migrated to a more Israeli diet. I serve lots of salads made with fresh locally harvested vegetables, lean meats and fresh fish... and a staple in almost all my recipes is some of the best extra virgin olive oil in the world.
Many people are discovering the health benefits of a Mediterranean diet, but the secret at the heart of it is the EVOO (extra virgin olive oil). It can help lower your blood pressure, prevent hardening of the arteries, lower breast cancer risk, and improve memory in the elderly.
We produce our own boutique brand of olive oil at Galilee Green which has a balanced flavor and delicate fragrance which allows us to use it in almost any recipe, from spicy appetizers to sweet desserts. 
Here are a sample of our favorites recipes featuring extra virgin olive oil!
MORE: How to Host an Olive Oil Tasting
This "no chickpea" Zucchini Hummus has 2 ingredient list options to choose from. You had better use it up in two days, as it can go "off" fairly quickly even in the refrigerator… but it's so yummy and healthy you should have no problem finishing it up! If you are having a larger group, simply double the recipe.   
MORE: A New Approach to "Fast Food"
ISRAELI SPICY TUNA SALAD SUPREME
This easy Israeli Spicy Tuna Salad Supreme with veggies and olive oil is the perfect lunch!  
MORE: The Secret Israeli Ingredient That Will Change Your Diet
These Heavenly Israeli Date Squares have such a rich flavor. The butterscotch tasting Barhi dates are best used in this recipe, but they are hard to find outside of Israel, so you can substitute your favorite variety of fresh dates. Many date square recipes will call for margarine. Because Galilee Green Olive Oil is so light, it won't overpower the sweet flavor of the dates, and can be used instead of margarine to make a much healthier desert.    
MORE: 3 Flavorful Recipes from Israel
OLIVE OIL AND BALSAMIC VINEGAR DIPPING SAUCE
I love simple foods and therefore, I cook simply. I aim for a variety of colours, tastes and textures. One of my favourite starters is Olive Oil and Balsamic Vinegar Dipping Sauce paired with a hearty bread. Imagine dining with friends you haven't seen in a while at a sweet restaurant and starting lunch or dinner with this treat. It never fails that you are always asking the server to bring more.    
Recipes posted with permission from Galilee Green.
Want stories like this delivered right to your inbox? Sign up now for our *free* JOY of KOSHER Newsletter.