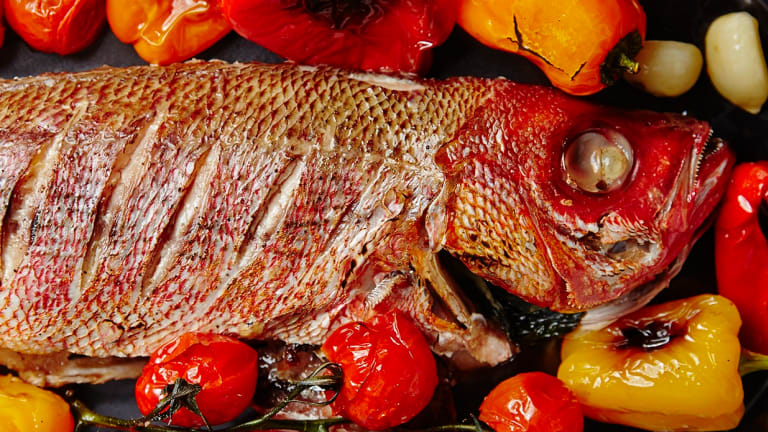 How to Buy and Roast Fresh Fish Like a Pro
There is nothing like roasted whole fish. Cooked right, the skin achieves a crispy texture while the interior results in flaky, tender, and juicy fish. It is all about taking a few easy measures to ensure perfect results every time. Use bronzino, tilapia, or red snapper.
Scroll down for the Roasted Whole Fish Recipe...
Signs of Fresh Fish
Fresh fish is crucial. Signs of fresh fish include: 
a fresh aroma (odor of the sea...not fishy)
clear eyes
red gills
firm flesh
no discoloration
Tip: Scoring fish allows steam to escape and the fish to be properly cooked
MORE: 6 Exceptional Recipes for Whole Fish
Tip: Butterfly and de-bone fish at your local fish store. Butterflying fish allows the fish to open like a book (so you can easily stuff the fish), with the spine still intact  
Get the recipe: ROASTED WHOLE FISH
You can add cherry tomatoes, baby peppers, and garlic or onion to the pan to roast as well.  
MORE: How to Steam Food Like a Pro
Buyer's Guide FOR BUYING FISH AT A NON-KOSHER FISH MARKET  
1. Check fish for scales by pulling out a scale from its flesh. It should be easily removable. Then check the skin to make sure no damage was done when pulling out the scale. (Some are machmir to check for scales by the fins, gills, or tail.)
2. If one does not find scales on the fish,he should check by the fins or tail. Often when the scales fall off, some remain by the fins or tail. (According to the Rema, if one found one scale on the fish, it is not kosher, unless it was found by the fins, gills, or the tail.) Otherwise, you can get an opinion from a fish expert who is a religious Jew. If he can recognize the fish species and he tells you that there is a masores that this fish is kosher, it is adequate, as long as the skin is attached.
3. If the fish is filleted, and a patch of skin is still intact, it is kosher, provided that you can determine that the skinning machinery is kosher. This is usually a question for your local Orthodox rabbi.
4. If the fish is filleted with a patch of skin, without scales, it cannot be considered kosher.
5. If there is no skin, the fish cannot be considered kosher. Salmon is an exception to this rule, as long as you can identify the fish as salmon, and ensure that the skinning machinery is kosher.
6. Fish caviar cannot be considered kosher and needs proper kosher supervision.
7. Bring your own knife, knife sharpener, and cutting board. Make sure the knife is sharp enough to cut fish. Otherwise, you can use their knives as long as they scrub the knife well with steel wool and remove any fish grease. It is recommended to clean the fish before cutting it, to ensure that no insects enter the flesh of the fish. 
8. Needless to say, one must be there as a mashgiach t'midi during the entire production, until purchasing fish sealed with a kosher seal.
ARTICLE ORIGINALLY PUBLISHED IN JOY OF KOSHER WITH JAMIE GELLER MAGAZINE PURIM 2015 SUBSCRIBE NOW
Want stories like this delivered right to your inbox? Sign up now for our *free* JOY of KOSHER Newsletter.