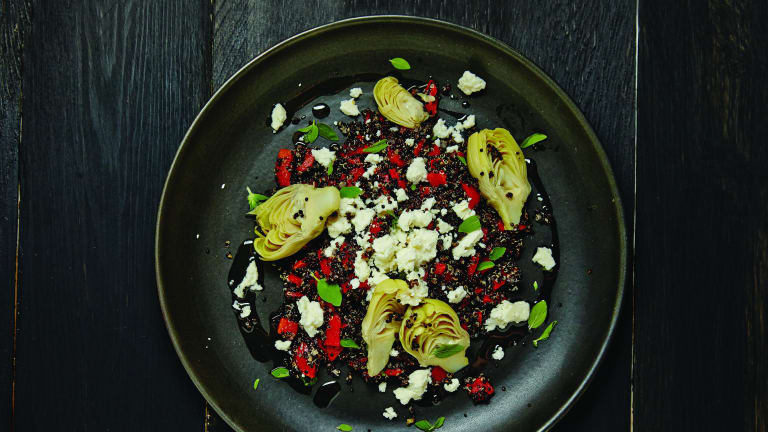 How To Cook Black Rice and Other Grains
Black is the new brown. Instead of brown rice try black rice, instead of brown quinoa, try black quinoa, and instead of brown lentils, try black lentils.
Looking to make a statement with your food? 
Look no further than presenting a one-color themed dish utilizing black grains. Black grains are nutritious and unique, but you can go ahead and use any color grain for the following recipes. Use regular quinoa in place of the black, any leftover rice for the rice cakes, and your lentil of choice for the lentil-beet salad. 
SERVING TIP: We used trendy black dishes to serve up the black grain recipes for even more impact. You can find black dinnerware in most home goods stores; look for these dishes in Ikea, West Elm, Crate & Barrel, and World Fair, just to name a few. 
SERVING SIZE: The following dishes serve four main dishes or eight side dishes. 
COOKING GRAINS: All packages come with very specific instructions for how to cook the grain. Simply follow the instructions on the labels for the following recipes, making sure to cook until just ready, and remove immediately from heat to avoid over-cooking the grains, which should be just cooked for the following recipes. 
NUTRITION NOTES: Like their brown counterparts, black whole grains have high protein and fiber. However, the black grains contain high concentrations of anthocyanins — the same antioxidants found in dark fruits, like blueberries and plums. Anthocyanins may improve memory and reduce the risk of cancer and chronic diseases. - Tamar Genger, MA, RD
BLACK LENTIL SALAD WITH GOAT CHEESE ARUGULA PUREE           
Few ingredients, easy prep, and modern, fresh flavors...what is not to like about this dish?
No one will believe how easy these cakes are to make. They pack a punch in flavor and presentation. A fun alternative to a traditional latke. 
Greek salad in a meal is the best way to describe this nutritious, stunning, and full-flavored dish. Omit the feta cheese for a pareve or meat meal. A great salad for Shabbat lunch.         
Originally published in JOY of KOSHER with Jamie Geller magazine, Winter 2015. Subscribe Now!   
Want stories like this delivered right to your inbox? Sign up now for our *free* JOY of KOSHER Newsletter.