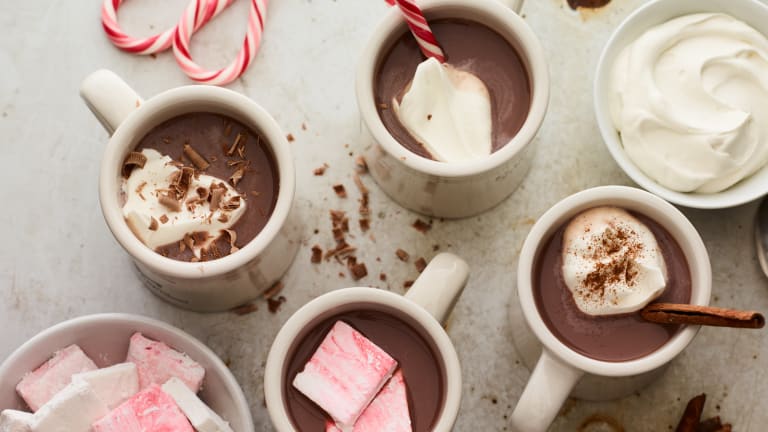 How To Set Up a DIY Hot Chocolate Bar
Do you have the Winter blues?  
We have the cure. 
A DIY Hot Chocolate Bar Party!!!
Even if you live in a warmer climate this is still hot chocolate season and we want you to live it up and share the JOY.  Take some notes, invite some friends and let's get this party started. 
1. Mugs - make sure to have a real mug for everyone, hot chocolate is just not the same in a paper cup.  Don't worry about them matching, the more photo mugs and quotes and colors the better. . 
2. The Hot Chocolate Base - here is where you can keep it simple or go crazy and we have crazy options for you.  Choose your favorite base or make all of them and let everyone decide for themselves. 
This is a simple classic cocoa where all you need is milk and chocolate and a little bit of sugar for good measure.  
This is our version of the Italian specialty for those that need some extra caffeine with their chocolate.  
For those who like it sweeter try a white hot cocoa, no real cocoa in here, but it is a real winner. 
This is for those real hard core chocolate lovers among us.  It combines dark chocolate with cocoa powder for the richest mix ever.  
3. The Toppings - all of these toppings can be store bought or homemade, no pressure, but the extra touch of homemade marshmallows will truly make this party epic. 
Put out cinnamon sticks, and chocolate flakes and candy canes, and fresh whipped cream, cinnamon in a shaker, cacao nibs, and all kinds chopped nuts, flakes of sea salt, sprinkles and even maple syrup and caramel sauce can be set out, think of this as your winter Ice Cream Sundae Bar and let everyone go wild. 
4. Liquor Up - set out a selection of liquor and liqueurs from coffee flavored to amaretto to vodka and rum, anything goes for a grown up party. 
You can prepare all of these ahead of time, this party is great for kids, adults and families, all you need now is a hot fire and a good movie. 
Want more recipes delivered straight to your inbox? Sign up now for the JOY of KOSHER weekly newsletter.