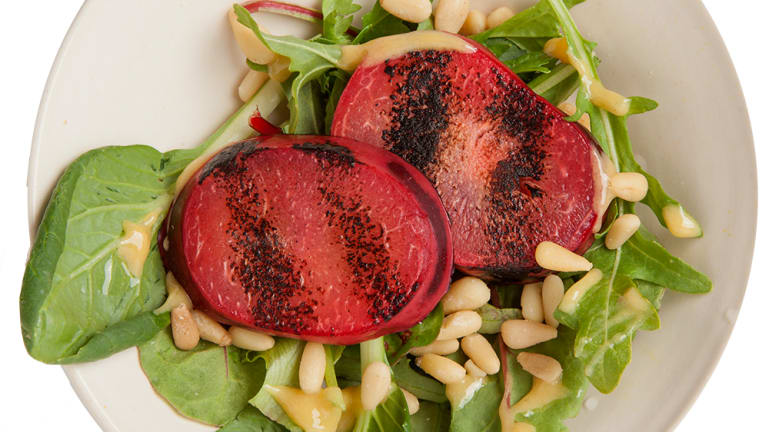 Hybrid Fruits: 3 Pluot Recipes
Pluots are a hybrid of a plum and an apricot and only make an appearance during the summer.
We are thrilled to be presenting you with a true summer fruit and several ways to use it. There are many varieties of pluots, mostly origi- nating from California, and each farm gives their crop a unique name — ranging from Dinosaur Eggs, Flavor Grenade, Dapple Dandy and Flavorglo, just to name a few. Pluots are sweet and juicy with a pink/red interior. They are full of vitamins A and C, and about 40 to 80 calories. Use pluots as you would plums.
Grilled fruit is a recent phenomenon that works well on many fruits.  The grilled plots work especially well in a salad to start or even be a meal.
Tarts are easy when using puff pastry dough, just choose a favorite jam and get your pluots ready for the quickest Summer dessert you can offer.
Macerated fruit is the process of of breaking down the fruit usually just using sugar to bring out the fruits natural juices.  The fruits become softer, easier to chew and digest. This version uses a little citrus zest and juice to add more flavor and is wonderful served alone or top of a cake or yogurt.
How do you like to eat Pluots?
Recipe published in JOY of KOSHER with Jamie Geller Magazine Summer 2013 SUBSCRIBE NOW