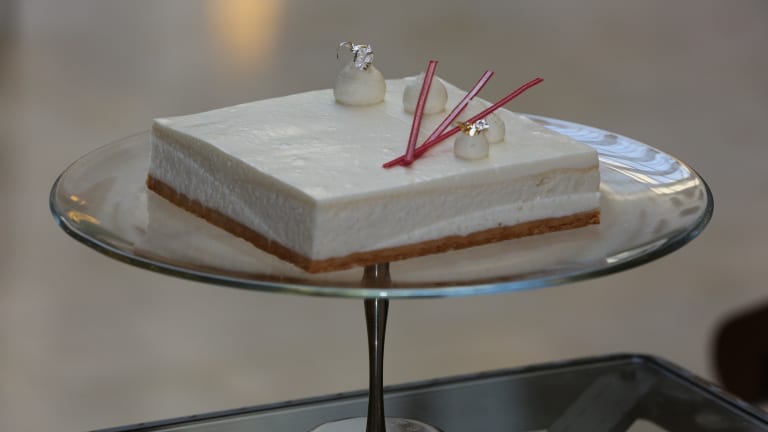 I Tasted Heaven at the Waldorf Astoria Jerusalem
Pastry Chef Claude Ben-Simon is obsessed with food. In fact, he admits to having more pictures of food on his phone than of family! However, his obsession and appreciation for food have led to incredible results in the Waldorf Astoria Jerusalem confectionary kitchen. As the Head Pastry Chef, Ben-Simon displays an astute attention to every detail of his desserts, from meticulously weighing each ounce, to choosing only the best quality ingredients for maximum results.
WATCH: Behind the Scenes at the Waldorf Astoria Jerusalem
Recently, I attended a spectacular baking demonstration led by Chef Ben-Simon at the Waldorf Astoria Jerusalem. His witty humor and captivating stories characterized this humble chef who is proud to represent Israeli cuisine, although he is originally French. With 18 years of baking experience, he embarked on his career as pastry chef in France despite the fact that very few Jews were found within the culinary profession. Since his Aliya to Israel, he has represented Israel in numerous culinary competitions with pride. For the past 2 years he has employed his expertise at the gorgeous Waldorf Astoria Jerusalem, creating over 170 extravagant professional wedding cakes, many exceeding 9 feet high!
Chef Ben-Simon impressed me with his modern and health conscious views on food. He has cut the amount of sugar in half for almost every recipe served by the Waldorf Astoria Jerusalem confectionary kitchen, admitting that high sugar content allows for longer shelf-life, but he does not recommend keeping a cake out for more than one day. He also minimizes or omits the use of chemicals such as food coloring. His focus is on real food for best results. He does not use margarine, and instead prefers the healthier alternatives of pistachio and grapeseed oils. In fact, he believes that these oils result in softer cakes, although he does use butter on occasion for the rich taste. In parve recipes, he uses almond milk only.
In the fabulous Red Velvet Cake which he whipped up before my eyes, he utilized raspberry concentrate rather than pure red food coloring, and substituted low fat cheeses for high fat cheeses in the frosting. Each step of the recipe was executed with the utmost care and precision, paying close attention to the laws of chemistry and how they apply to baking. The result was a slice of heaven! A 3 layer cake, filled with luscious cream, and topped with a white chocolate tablet, then decorated finely with flowers. (Get the recipe below!)
RED VELVET CAKE WITH CREAM CHEESE FROSTING
I was lucky enough to sample some of the incredible treats that are to be served this season at the Waldorf Astoria Jerusalem. Chef Ben-Simon talked about the upcoming Shavuot menu, and the exciting array of desserts to come, including 3 types of rich cheesecakes, 15 flavors of decadent cakes, and a luscious brunch with a focus on fresh fruits and gentle flavors in order to achieve "the perfect bite." The Shavuot holiday meals are strictly meat, so diners wishing to sample his dairy treats can do so during the breakfast meal, where no holds are barred on the indulgent dairy menu.
GET CHEF BEN-SIMON'S RECIPES FOR CHEESECAKE AND QUICHE IN THE SHAVUOT ISSUE OF JOY OF KOSHER WITH JAMIE GELLER MAGAZINE
MORE: A Taste of Waldorf in Jerusalem
Want stories like this delivered right to your inbox? Sign up now for our *free* JOY of KOSHER Newsletter.