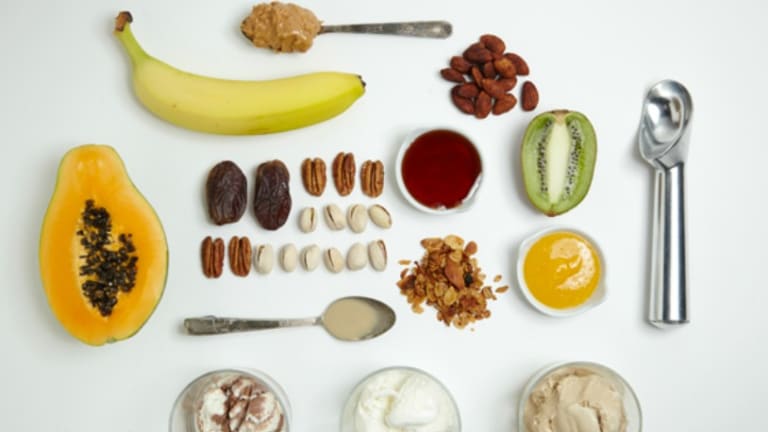 Israeli Inspired Frozen Yogurt Recipes
There's this place that I visit just a little too often.
And in between visits I dream.
And one day in between dreams (and a 20-minute detour I really couldn't afford) I thought: I can do this at home and so can you. And that's how my favorite frozen desserts inspired by Israeli yogurt chain Re-Bar came to life.
There are so many ways to top frozen yogurt. Here are 3 great ideas, plus a recipe for making your own semi-homemade Greek frozen yogurt.
To start off, before you add any toppings, you have to have a delicious and easy frozen yogurt base. This Semi-Homemade Greek Frozen Yogurt is exactly what you are looking for. It takes a few hours to set, but there aren't many steps and the outcome is creamy and tart... A perfect base for any topping.
More: DIY Make Your Own Greek Yogurt
Halva-Inspired Frozen Yogurt is the perfect Israeli treat to have on a hot day. The mix of silan aka date honey (a dark, sweet, concentrated fruit syrup that can be used much in the same way as honey, molasses or maple syrup) and nuts along with a dollop of tahini makes this frozen yogurt taste like you are biting into homemade halva, without all the work.
Of course banana, chocolate, and peanut butter are not a new combo but what makes this  Cocoa Banana Nut Frozen Yogurt recipe special is the crunchy cocoa roasted almonds.
Last time I was in Philly my mom gave me a bunch of 100-calorie cocoa almond packs to keep in my purse for power snacking while traveling. Look for the OU-certified Cocoa Roast Dark Chocolate Almonds from Emerald on Amazon or at your local grocer, or make your own (recipe included).
Tropical Frozen Yogurt With Mango Coulis is probably the best fruit filled frozen yogurt. Not only because if you can make it yourself you can choose which ever fruit you would like, but also because of the delicious mango coulis. The best part about the coulis is that the recipe yields 3/4 cup so feel free to use the leftover coulis on any dish you think would benefit from delicious mango goodness.
More: How To Cut A Mango
As seen in the Joy of Kosher with Jamie Geller Magazine