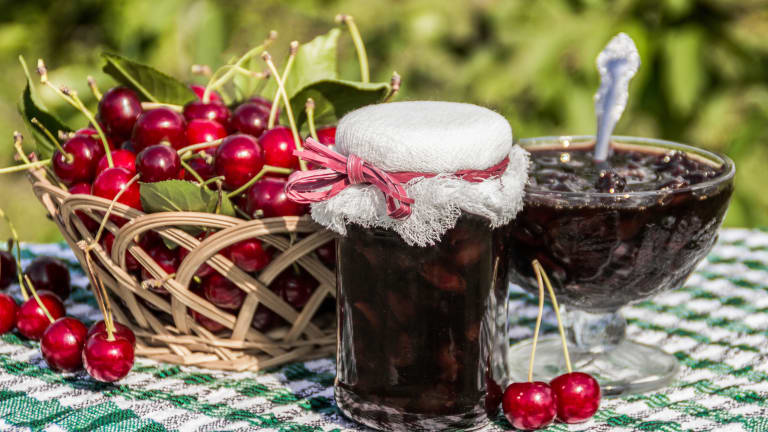 Make Your Own Jam With Any Fruit - Summer Jammin
It is easy to make your own jam with any kind of fruit from strawberries to cherries to apricots. 
Summertime in Israel is a particularly exciting time to be a foodie. Sure the weather can be unbearable, but with the hot air and often sandy winds comes relief in the abundance of jewel toned fruit, that start to appear in the local fruit and vegetable markets.
If you didn't already know, there is nothing better than juicy, succulent, and most importantly, fresh Israeli fruit. Cherries and fresh apricots are a particular joy to find after their long absence and can be purchased from early May up until the first weeks of July. It is truly a pleasure to eat them just as is (and often until your stomach rumbles with discontent), but are equally indulgent when made into a rustic fruit preserve, and sealed off to enjoy year-round.
The following recipe is more formula than recipe, and will help you make all of your favorite fruit into preserves and jams. Use it as a guide to discover your own favorite summer fruit combinations!
Tips for making your own no-fuss summer jams:
• No pectin necessary- No need to worry about getting special sold additives for your jamming. The same effect can be created with the proper time and care, while keeping your jam all-natural, and most importantly-simple.
• Skim off the foam- When fruit is boiled down it can produce a foam on the surface of your jam. Be careful to skim as much of this foam off as possible to get the clearest, and cleanest jam. Helpful hint: Use organic fruit if possible to keep foam down to a minimum.
• Keep the recipe simple, but DO take the time to practice proper canning methods- Sterilizing empty jars in the oven before filling with the hot jam, and then processing in a large pot filled with boiling water may seem tricky at first, but it is the only way to ensure a true vacuum seal and sterilization that will make your jam as shelf stable as any you would buy in a supermarket.
MORE: DIY Fermenting: The Latest Health Trend with Amazing Benefits
FRESH APRICOT AND CHERRY FRUIT PRESERVES
Making your own fruit preserves and jams can be an extremely rewarding experience, once you get past the fear of the process itself- which is often over complicated by old world approaches. Use this simple method to make quick and easy jam that can be adapted to most any fruit you can think of. Try out your favorite summer fruit combos, to find what you and your family like best!
If you are in Israel and would like to learn how to make jam from the "The Jamstress," herself, check out Baking Workshops and more offered by Jessica Halfin. 
The author also offers "Haifa Street Food Tours"- Culinary walking tours for tourists who are looking to experience the best that Israeli cuisine has to offer in the beautiful Mediterranean city of Haifa. 
Want stories like this delivered right to your inbox? Sign up now for our *free* JOY of KOSHER Newsletter.