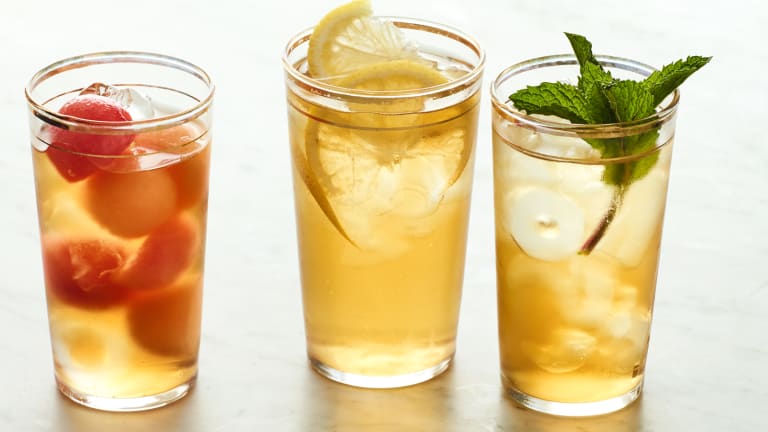 Our Favorite Iced Drinks
Summer is heating up and we are thirsty, but we don't want to load our cold drinks up with sugar.  Check out my favorite way to keep cool in the Summer and then try Tamar, Laura, and Shifra's favorite iced drinks. 
ICED GREEN TEA WITH VARIATIONS
Reap the many healthy benefits of drinking green tea and try my Iced Green Tea or one of the recipe variations below.
I gave up soda a long time ago, but still enjoy the bubbles. With Sparkling Green Tea, my go-to green tea becomes almost like a soda when mixed with sparkling water.
In Green Tea with Lemon and Ginger refreshing lemon and uber healthy ginger amp up my green tea for an energizing variation.
As if green tea wasn't pretty enough. we added frozen melon balls and took pretty to stunning. Follow any of the green tea recipes below.
SHAKEN ICED COFFEE (Tamar's)
Shaken, not stirred, that is how I make my iced coffee. For the past few years, cold brew has been all the rage, but last summer I happened upon a new trend.
In both NY and Spain I found some of the best iced coffee was shaken and now I can't have it any other way.
Best made with espresso, but it can be made with almost any kind of milk and any kind of sugar. For a lighter version I go with almond milk and palm sugar, for a richer flavor I go with coconut milk (the thick and creamy kind) and date honey.
You can use a cocktail shaker for this, but I like to save my large jars of date honey and use them as my shaker. Usually I make it for two so it is a perfect fit.
This is the best way to get latte-like foam on an iced drink. 
COLD BREW EXTRACTION (Laura)
I love cold brew so much I drink it all year round. I love my coffee so much that I have learned to say "Iced coffee please," in at least 6 languages, no exaggeration! I had several Parisian waiters, during a visit, chide me (the way only French waiters can) for drinking cold coffee in brisk weather, though I begged, café glacé s'il vous plait. I said PLEASE!

My cold brew isn't really just coffee with ice added to it (though I often am served that inferior beverage). My drink of choice is an extracted concentration made from ground beans and purified water, steeped lovingly for 24 hours, then gently filtered and stored in my fridge.
When I am finally ready to drink my beloved coffee, I pour a scant one-third cup of concentrate in a glass and top it off with two-third cup of filtered water, a few ice cubes, and a straw. My co-workers know not to get in the way of my coffee or to talk to me until that coffee has had a chance to soak in...AHHHHH, BLISS!
LEMON ZINGER ICED TEA (Shifra)
Skip the soda and artificially flavored iced tea and make your own blend using our simple formula. Choose the tea of your choice, add apple juice, ice, some water and add any citrus, fruits and herbs you have on hand.