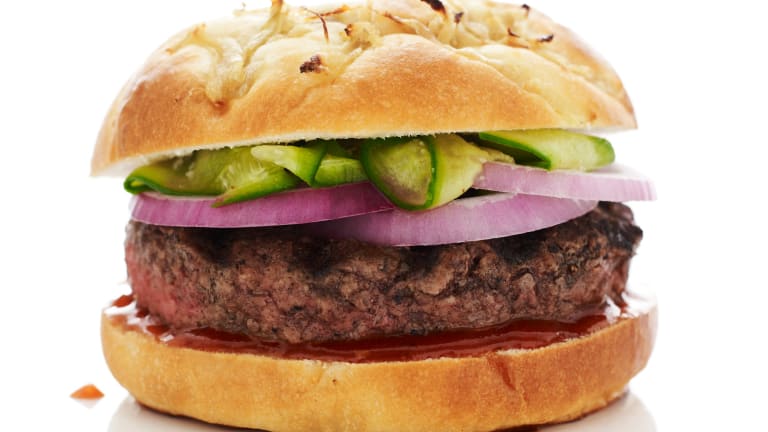 Family Favorite Summer Recipes
Summer is here and it is hot!!!  I got the entire JOY of KOSHER with Jamie Geller team to share their favorite summer recipes with you. We all love the long days and time with our family and friends. 
Scroll down to check out what the team says about summer, and add your faves in the comments below. 
CEVICHE TACO WITH BLACK BEAN AND CORN SALSA
My favorite highlight of summer is all the fresh fruit, from berries to peaches and plums- this is my season.  I chose Mango Ceviche as my favorite summer recipe because it is deliciously vibrant and doesn't require any cooking. 
"I am going to lead by saying this is not my favorite rather it's one of my favorites (of which I have MANY!). But this burger, slathered in BBQ sauce, topped with quick pickles, and sandwiched between an onion roll makes this baby a little different and a lot fun for your next Q."
-Jamie Geller, Founder and Chief Creative Officer
"To me, summer means sunshine, and sunshine brings out the best in everyone. Some of my fondest memories revolve around being out in the sun by the grill. This recipe for London Broil reminds me of summer as we would always take this cut out to the grill…even on weeknights."
-Deborah Shapiro, Vice President of Marketing and Operations
GRILLED CORN WITH HERBED "BUTTER"
"Everyone loves to grill in the summer but sides are sometimes overlooked. Grilled Corn with an herb butter is one of our favorite sides."
-Shifra Klein, Magazine Editor-In-Chief
"As someone with a sweet tooth and an ice cream lover, Bananas Foster for dessert just does it for me! :)"
-Shlomo Klein, Magazine Chief Operating Officer
"I love that dinner can be a big salad and an iced coffee. I love that my toddlers' cute little pudgy fingers are always trying to get into my salad."
-Keren Brown, Social Media Manager
VEGAN CHOCOLATE ESPRESSO MILKSHAKE
"I love summer because the heat is always a great excuse for an iced coffee, anywhere, anytime. Blended with frozen bananas, the Vegan Chocolate Espresso Milkshake is super creamy and chocolatey, but without the dairy."
-Rachael Masri, Editorial Assistant
"Margaritas are the sign of garden parties, BBQs and fun! Summer is the best time for margaritas!"
-Yehudah Jacobs, Social Media Associate
"Camping (or at least the thought of it), grilling almost every night with ice cold beer! When not firing up the Q, I love light meals, like Spinach Shakshuka - a nice summer twist on the cozy classic."
-Tom Eisenman, Director of Brand Partnerships