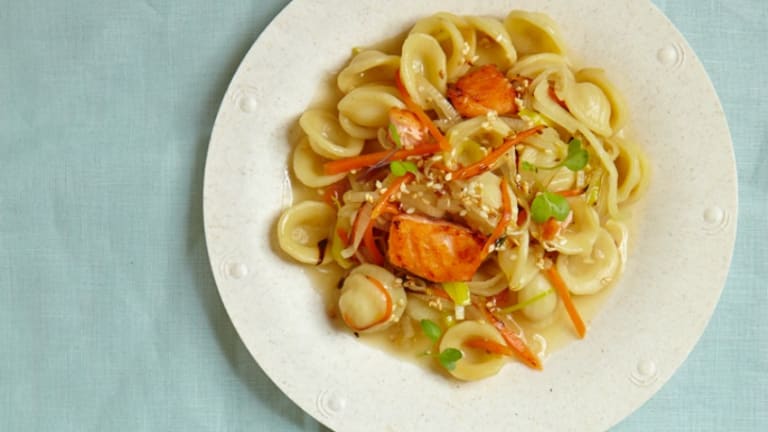 Pasta Perfection: 3 Real Italian Recipes
KEEP IT HEALTHY, GO ITALIAN...
THE RULES TO LIVE BY
Serve pasta as an appetizer before a main protein course and veggie side.
Include pasta in a one-pot meal. In this case, Italians would never eat a carb-only pasta meal; vegetables and protein are always included.
For a special occasion, treat yourself to a richer pasta dish with béchamel,alfredo, or heavy meat sauce. This is by no means an everyday habit, more a treat to be enjoyed sparingly.
Italian Tips
Use eggs in place of cream to add richness to your pasta sauce. This amps up the protein, and makes a luscious sauce with much less calories. 
Add a protein element to take center stage and balance out the pasta.
Use a light PROTEIN-RICH CHEESE, such as ricotta, to take center stage.
RISOTTO STYLE PASTA WITH SALMON
In some Italian regions, pasta is sometimes cooked risotto-style, by slowly adding hot stock. This adds creaminess and flavor to the preparation without adding any extra fats!  
MORE: An Italian Holiday Feast
VEGETARIAN CARBONARA WITH MIMOSA OPTION
One of the most famous and least diet-friendly Italian pasta recipes, the classic carbonara, made with eggs and bacon, is strictly forbidden to most of us, whether we are kosher, vegetarian, or simply trying to avoid a bypass.    
MORE: A Secret Italian Menu
PAGLIA FIENO WITH RICOTTA, ZUCCHINI, AND HERBS
Welcome spring! Paglia and Fieno translate as "straw and hay," and describe a mix of spinach tagliatelle with simple egg tagliatelle. You can also make this dish using only one color of tagliatelle. Paglia e Fieno, and egg noodles in general, are considered more "festive" in Italy than regular pasta without eggs. Another shape of pasta (egg-free) that could work well for this recipe is farfalle (butterflies).    
MORE: 5 Easy And Elegant Weeknight Pasta Dinners
Recipes published in JOY of KOSHER with Jamie Geller Magazine Shavuot 2015 SUBSCRIBE NOW
Want stories like this delivered right to your inbox? Sign up now for our *free* JOY of KOSHER Newsletter.