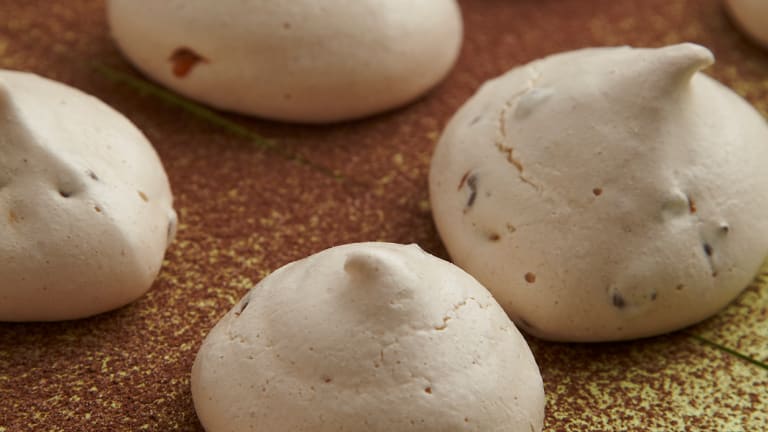 MERINGUE MAGIC: A No-Fail Technique for Perfect Results
The Magic of Whipped Egg Whites
When I think of whipped egg whites, the first thing that comes to mind is a light and crunchy meringue.
My grandmother always made meringues for Shabbos and I would snack on them all day long! Crunchy on the outside and a little chewy on the inside, this sweet treat is also perfect for Pesach. If you want to spice up your meringues, you can add chocolate chips, citrus zest, almond butter, chopped pistachios, or anything that you and your family enjoy! The options are endless. People seem to get very intimidated by the process of making meringues, but it's easier than you think! With just a clean bowl, an electric mixer, a whisk, egg whites and sugar, you can make meringues that will be sure to impress. The trick to making a successful batch of meringue is beating your egg whites correctly, trapping the air to create lightness in your batter. With these tips, you will have no problem getting it right.
No Fail Technique
To get more volume when beating the egg whites, bring the eggs to room temperature first. Set eggs on the counter for 30 minutes before whipping. Make sure the bowl you use to whip the whites is clean and dry. A copper bowl is preferable since it will actually react chemically to the egg whites for fluffier and higher peaks. If you only have a stainless or glass bowl, add cream of tartar to the whites just as they begin to froth during beating to achieve the same results. 
When a recipe calls for soft peaks, the peak of the egg whites should curl down when the beaters are lifted up. When a recipe calls for stiff peaks, the peak should stand straight up and if you tilt the bowl, the mixture should not slide around. 
Begin beating the eggs at low speed then gradually raise the speed to high while beating the egg whites. 
As soon as the egg whites reach stiff peak, stop beating! If you overbeat the whites, they will turn to liquid again and you will need to start over again with new egg whites. 
While we're already whipping the egg whites, let's talk about some other recipes that you can whip up on Pesach and year round. Instead of serving a heavy chocolate cake or seven-layer Pesach cake, why not try a fluffy and healthy angel-food cake this year? Just like meringues, the flavor options are endless and you can top your cake with a sweet glaze or fresh fruit.
And if you want to serve up your whipped egg whites as an entrée instead of dessert, look no further than a rich soufflé! I'll admit that I was always intimidated by the idea of making a dish that has the potential to deflate, but you won't believe how easy it is to make an airy and light soufflé successfully.   
MORE: Aquafaba is the Magic Ingredient You've Been Throwing Away
These Chocolate Chip Meringue Cookies are simple to make, super delicious and have just the right amount of each ingredient to satisfy your chocolate cravings.  
MORE: Shabbat Menu with Heart Shaped Meringues
ORANGE ANGEL FOOD CAKE WITH CITRUS GLAZE
Leftover egg whites? Try this heavenly Orange Angel-Food Cake with Citrus Glaze, bursting with citrus flavors in a spongey, light and airy bundt cake.  
MORE: Meringue Magic
This Spinach & Cheese Soufflé is packed with yummy cheeses and rich spinach, with a hint of Dijon mustard and nutmeg, similar to a white bechamel sauce.  
MORE: All About Baked Alaska
CHOCOLATE MOUSSE MERINGUE PARFAIT 
This American parfait, made by layering mousse, meringues, and nuts in a tall glass, can be topped with whipped cream and/or liqueur for the ultimate dessert.  
Recipe published in JOY of KOSHER with Jamie Geller Magazine Pesach 2013 SUBSCRIBE NOW
Want stories like this delivered right to your inbox? Sign up now for our *free* JOY of KOSHER Newsletter.