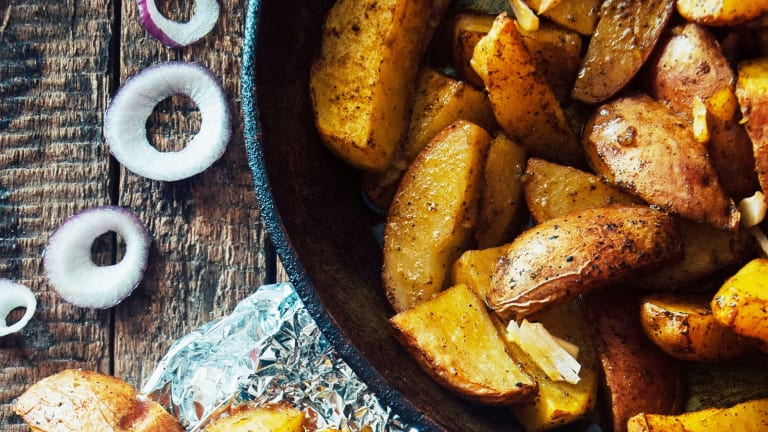 Perfect Potatoes: 3 New Unexpected Ways to Prepare Your Fave Side Dish
Potatoes are the world's fourth largest food crop, but they have become such a kitchen staple that we tend almost to overlook them in favour of 'trendy' carbs like quinoa or Israeli couscous. 
Here are three reasons why you should put potatoes back on your family menu:
Despite their starchy nature, gram for gram, potatoes are lower in carbohydrates than wheat, rice, maize, sweet potatoes, yams and plantains.
A medium potato (150g or 1 cup) provides ⅓ of your recommended daily Vitamin C.
There are over 4,000 varieties of potatoes! So many varieties and colors to choose from.
I don't have 4,000 recipes for potatoes, but I have chosen three of my favourites: Helzel Potatoes were a childhood treat of meltingly soft savoury potatoes topped with crispy and delicious Helzel (stuffing). Greek Potatoes with Lemon and Garlic demonstrate that potatoes aren't just for wintertime, but can make a gorgeous sunshiny side-dish in the summer too. And finally, my Potato Roses are some of the most beautiful dishes you can make with a potato! Almost too pretty to eat.  
I have plenty more potato recipes on family-friends-food.com so if you like these, come and check out the rest!
GREEK POTATOES WITH LEMON AND GARLIC
Posted with permission from Family Friends Foods.
Want stories like this delivered right to your inbox? Sign up now for our *free* JOY of KOSHER Newsletter.