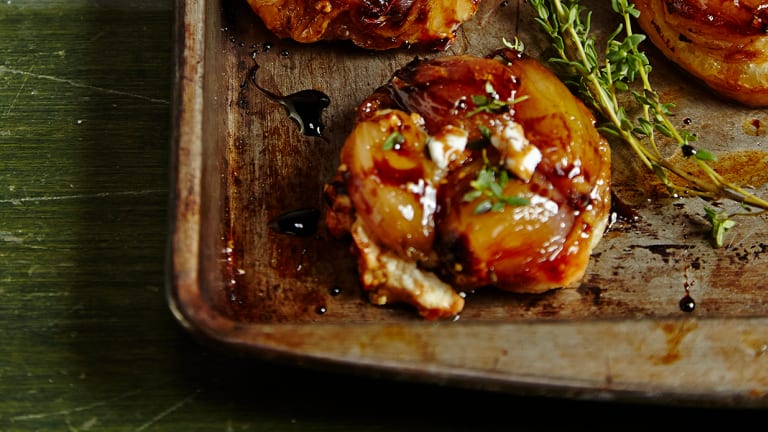 You Have to Experience These Rich and Savory Tatins
An apple tarte Tatin has a very short list of ingredients: apples, butter, sugar, pastry dough. Its simplicity almost begs the question: why is this iconic French dessert so beloved, so intriguing? First off, it's inverted — the apples are cooked in the pan and then baked with the pastry covering on top, only to be flipped shortly before serving—and inversions are, well...cool. 
 Seeing the crowning glory of beautifully bubbly apples suddenly appear never fails to surprise; the much-awaited "ooh and ahhh" moment. And then there's the "c" word: caramelization. We like caramel. We like the magical nutty, sweet flavor that arises from sugar breaking down in a pan in all its transformative oozy goodness. We like it straight-up as a sauce or milky dulce de leche, but we really appreciate its complicated nuances when fruit gets involved. 
That's the secret of a tarte Tatin. Caramel on bottom, flaky crisp pastry on top. What if that treatment was applied to dishes outside the dessert menu? Vegetables like their share of caramelization too, you know. With their natural sweetness intensified, and paired with the bite of buttery pastry, this is a win-win for savory options. To anyone who has partaken, a Tatin is a rich experience; but the real pleasure belongs to the baker, who can fully enjoy the process in all its delicious cleverness.
MORE: Souffle Recipes, Sweet or Savory Made Easy
MINI TARTE TATINS WITH CARAMELIZED SHALLOTS AND GOAT CHEESE
Beautifully elegant for a brunch or a light lunch, these minis pack a huge flavor!        
The tomato is technically a "fruit," though we rarely treat it as such. When tomatoes caramelize, it becomes clear just how sweet this fruit can be.         
Recipes published in JOY of KOSHER with Jamie Geller Magazine Shavuot 2015 SUBSCRIBE NOW
Want stories like this delivered right to your inbox? Sign up now for our *free* JOY of KOSHER Newsletter.