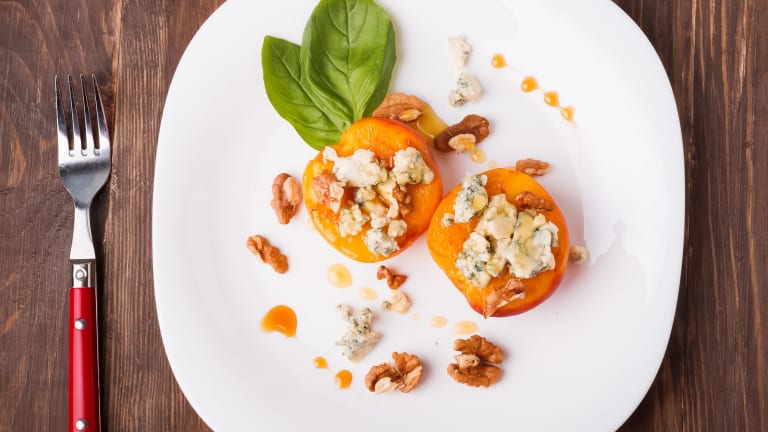 Roasted Fruit Like You've Never Seen Before
Roasting fruits can transform a dish into a sweet (or savory) entree. With the abundance of fruits available now, there's a multitude of ways you can cook with them, whether it's featuring them as the star ingredient of a dish, or adding a certain fruit to bring just a bit of sweetness to a recipe. These fun fruit-featured recipes are a healthy and creative way to enjoy your fruit.
This Perennials Roast recipe is a festive roasted fruit salad that uses several perennial fruit tree ingredients to create a one-pot dish. These perennial plants grow in cycle with the earth every year. They return, unlike annuals that are planted each year.   
MORE: Hybrid Fruits: 3 Pluot Recipes
ROASTED FRUIT WITH MILK AND HONEY
This Roasted Fruit with Milk and Honey recipe is based on the offering of fruit trees and the land of milk and honey. Fruit trees are deep rooted into the land. They become integral to communities through their root systems and as perennials, are a reliable source of food. A land flowing with milk and honey is one that is illuminated with our acts of mitzvot. The baked fruit, topped with goat or non-dairy cheese and date syrup are symbolic of milk and honey. This delicious, sweet dish, is great as an appetizer or dessert.
MORE: 3 Warm Winter Salads
The dish of Quinoa with Fruits and Yams is reflective of the Israelites' passage from their constricted life as slaves in Egypt to the Exodus. The array of fruits to represent the flourishing spring season. The entire dish is drizzled in pomegranate molasses, which is a bit tart, to represent the pains and bitterness of enslavement.    
Recipes posted with permission from NeeshNoosh
Want stories like this delivered right to your inbox? Sign up now for our *free* JOY of KOSHER Newsletter.