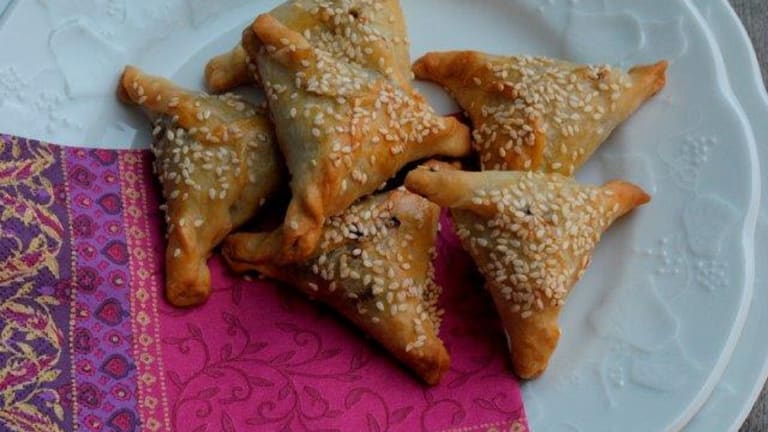 Cookbook Spotlight: Sephardic Baking
Do you remember the smells of your Nona's baking and the way her hands seemed to know instinctively how to measure ingredients without a recipe? Linda Capeloto Sendowski began baking as a child, helping her mom and Nona create special meals for family celebrations and holidays. She descends from a long line of Sephardic Jews from the Island of Rhodes in Greece and the coast of Turkey, including Istanbul, Chanakli, and Tekirdag. Both sides of Linda's family came to the United States in 1909 and 1910.
Sephardic Jews have long enjoyed the tradition of dunking baked goods in their afternoon Turkish coffee, espresso, or after-dinner tea. Another Sephardic tradition of the Ladino speaking Jews from Greece and Turkey is a dairy Shabbat lunch featuring many baked delicacies like Cheese Borekas and Spinach Filled Savory Pastry.   
Linda's debut cookbook, Sephardic Baking from Nona and More Favorites: A Collection of Recipes For Baking Desayuno And More, will enable you to fill your own home with the comforting aromas of traditional Sephardic breads, brunch pastries, and desserts. Beyond simply teaching you how to bake timeless classics such as challah, bulemas, and biscotios, this cookbook also delves into the history of Sephardic Jews and the origins of their recipes. Plus, you'll be introduced to several new kosher desserts for those times when you simply want to make a great chocolate cake. This cookbook truly captures the timeless recipes and other fantastic baked goods that have been passed down for generations of Sephardic home cooks.
Here at JOY of KOSHER, we are giving you a free sneak peak of our favorite recipes. 
PASTELICOS (MEAT AND RICE FILLED SEPHARDIC PASTRY)
A Pastel is a hand pie in Ladino (Judeo Spanish), and these individual small pies use the suffix indicating smallness. Think of Pastelicos as meat-and-rice filled borekas. Other Sephardim make similar pastries such as meat Sambusak. Unlike cheese borekas, which are half moon shaped, pastelicos are triangular or round with little caps.
CHOCOLATE CHERRY MARZIPAN TART
This recipe came to me as an inspiration when my friend Suzette and I baked her Italian Crostata di Marmelata last year. Using that recipe for dough, I covered the bottom and sides of a square tart pan with a removable bottom with dough, then marzipan, then dark chocolate and finally black cherry preserves. I froze the tart after baking and when I defrosted it a month later, I sliced it into bars or squares. My guests were so impressed. Wow- a surprise hit! .    
Laffa- thick pillows of chewy bread, are usually made on a hot taboon (a special kind of oven) when served in a restaurant. At home you can cook them on a griddle, on the bottom side of a wok or simply in a frying pan.    
Want stories like this delivered right to your inbox? Sign up now for our *free* JOY of KOSHER Newsletter.