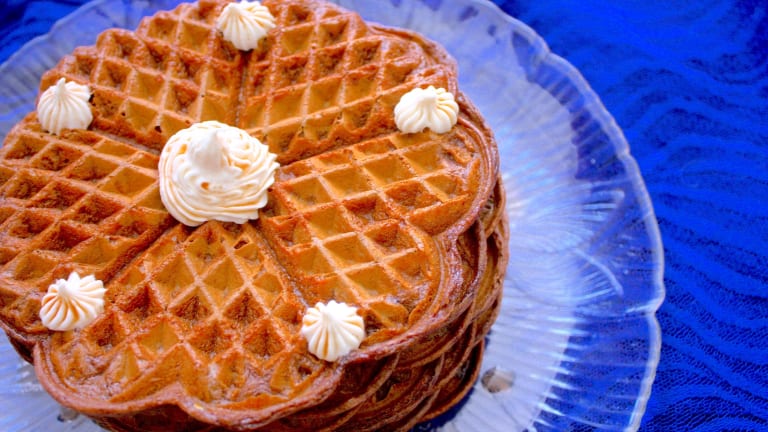 The Best Homemade Gourmet Vegan Brunch
It can be easily argued that brunch is the best meal of the week. In a city like New York, brunch culture pervades on the weekend, with millennials lining up in almost every neighborhood for a leisurely meal comprised of the sweet and the savory, punctuated by a bubbling mimosa or two. 
Breakfast and brunch also happen to be the most difficult meals to manage as a vegan. Most brunch foods are heavy on the dairy, the eggs or both, leaving vegans with the option of cold fruit, gloopy, gray oatmeal, and a lot of sadness at traditional brunch restaurants. But when it comes to serving brunch at home, options abound! Liven things up with a bright, Provençal inspired braised tofu, sweet and crispy red wine red velvet waffles, dripping with a balanced port wine syrup, and get creative with customizable vegan omelettes.
  Brew up a big pot of tea, and you've got yourself an easy, homemade brunch party.
MORE: Delcious, Fancy, and Vegan: A Complete Meal
In Tel Aviv, the chickpea omelette craze has spread like wildfire, but as that began to find a foothold on the shores of the Mediterranean, I was in the US experimenting with chickpea flour for my own type of omelette. There's something about the flavor that lends itself to eggy type dishes, but I found that texturally, omelettes made with only the bean flour were a bit too pancake like to fool the most discerning of brunchers. Enter: tofu. By combining both blended tofu with the chickpea flour, I managed to find a way to bridge the gap between flavor and texture, while remaining satisfyingly true to vegan standards. You can fill your omelettes with a whole host of options, from homemade cashew cheese, your favorite store bought vegan cheese, sautéed veggies, caramelized onions, coconut bacon, or whatever tickles your fancy.   
MORE: The Best No-Fail No-Bake Vegan Desserts
RED WINE RED VELVET WAFFLES WITH PORT WINE SYRUP
These vegan Red Wine Red Velvet Waffles With Port Wine Syrup are sticky and sweet, covered with an unusual syrup that will surprise you. The reddish color comes from the rich red wine.   
MORE: The Best Israeli Breakfast in Jerusalem
This delicious Braised Tofu Provencal is a fancy way to serve tofu: Braised in a white wine sauce with fresh herbs.  
I have heard of premade coconut bacon being available for purchase, but since I already had large flake coconut on hand, I figured it would be easy enough to make myself. The results were so good, I was worried that I wouldn't have any left to actually top the cupcakes with. While I can't tell you what "real" bacon tastes like, I found the flavor of the coconut bacon to be very similar to veggie bacon (not vegan), which is what I grew up on. It sure was nice to find such an easy replacement to a childhood favorite.    
Want stories like this delivered right to your inbox? Sign up now for our *free* JOY of KOSHER Newsletter.