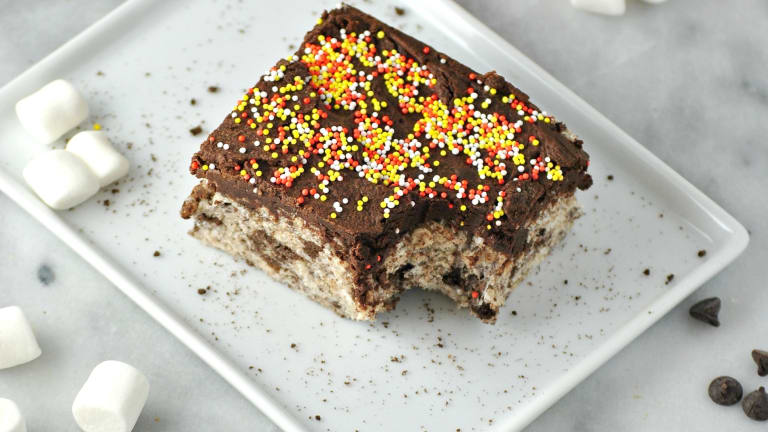 The Best No-Fail No-Bake Vegan Desserts
Editor's Note: These vegan desserts are no-bake and no-fail, with little effort required to make amazingly impressive sweets for vegans and non-vegans alike.  
Sometimes we don't have the extra time to whip up something fancy, which is why this recipe for Rosewater Pudding seemed perfect to share. If you're looking to experiment with floral waters I highly recommend them as they are versatile and can be used in savory dishes as well.  
MORE: The Best Crowd Pleasing Vegan Appetizers
LEMON BLACKBERRY CASHEW CHEESECAKE
This recipe for vegan Lemon Blackberry Cashew Cheesecake was inspired by my affinity for all things lemon, and the idea that all desserts don't have to be heavy. They can be light, rich, nutrient dense, and colorful all at the same time!    
MORE: Why Everyone is Talking About Agar
What's strange is that I'm not even a Rice Kirspies treat person. Typically at I find that they are too dense, hard, and just not enjoyable unless super fresh. But these bars are just different. In addition to being vegan, they are so rich and flavorful...You have to give them try. Especially if you're crammed for time!  
MORE: Fun and Healthy Treats to Make With Kids
VEGAN CHOCOLATE ESPRESSO MILKSHAKE
If you long for classic coffee ice cream and the vegan and parve options fail to deliver or you simply are craving chocolate and also need a little pep in your step, then this recipe For a Dark Chocolate Espresso Milkshake is the answer!  
MORE: Your Favorite Desserts Made Healthier
Vegan Pink Coconut Whip is so easy, so effortless, and so amazing that I can't imagine not making it at least once a week.  
MORE: Aquafaba is the Magic Ingredient You've Been Throwing Away
Recipes and photos provided courtesy of Eat Drink Shrink.
Want stories like this delivered right to your inbox? Sign up now for our *free* JOY of KOSHER Newsletter.