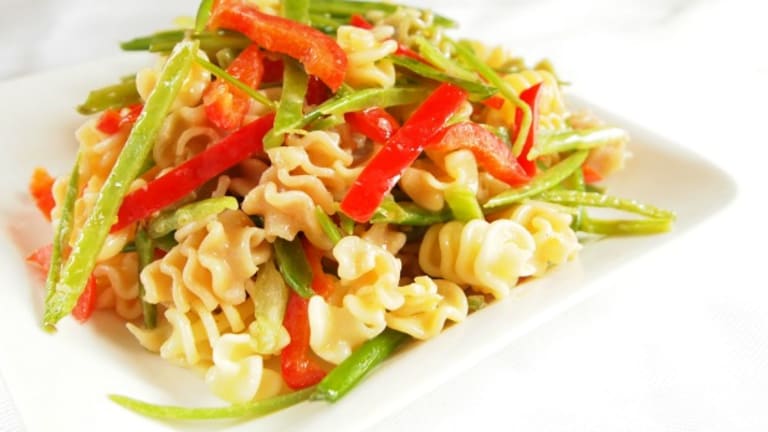 The Best Potluck Recipe Link Up
We love to connect with all the kosher food bloggers out there and sometimes we are lucky enough to get together for live in person meal.  Check out our #ShareSabra Potluck meal here from March, but with many bloggers all around the country and some even in Israel and England, we can't always make it happen in person. 
Today we decided to have a virtual potluck, where we all bring, I mean share the food we would have brought if we could have been in person.  
I decided to bring my absolute best, most favorite recipe for Pasta Salad.  I believe pasta salad is the best potluck recipe for the following reasons: 
It doesn't spoil
It is budget friendly
It is versatile to fit any kind of meal
It is great for picky eaters (they can pick out what they don't like)
I really love this recipe for Pasta Salad using tricolor pasta (I got this one from Trader Joe's) and peppers and snow peas - but the dressing is what makes it, so feel free to play around with what goes inside.
For more Pasta Salad recipe ideas click here. 
Don't miss the rest of the potluck, check the links below and then tell us what you would bring if you were coming to our potluck.