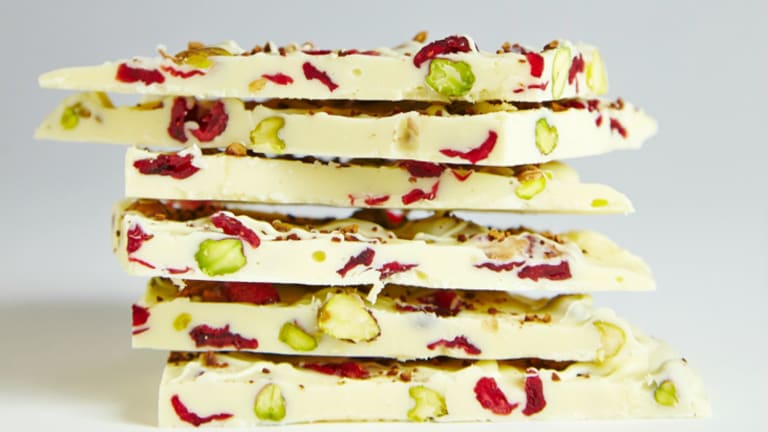 No Bake Desserts To Get You Out Of The Kitchen
Summer is a great time to try out no bake recipes. Who wants to be standing by the oven waiting for a recipe to finish baking when you can go outside and enjoy the beautiful weather? 
White chocolate is also the perfect addition to any dessert. When you pair the sweetness of white chocolate with a tart cranberry (like in my white chocolate pistachio and coffee bark) you get the perfect flavor combination. You can also pair white chocolate with other fruits such as passion fruit.
When you combine no bake with white chocolate, you have 2 perfect summer dessert recipes that everyone will be wanting more of.
White Chocolate Rice Pudding with Passion Fruit
Rice pudding reminds me of my grandma Sylvia, the first great baking influence in my life. She baked hers in the oven and added golden raisins to the mixture. Rice pudding requires the kind of devotion we need to give our loved ones – you cannot ignore it and expect it to come out right, it needs to be watched carefully and listened to for stirring cues, and sometimes requires more attention than we might be in the mood to give. Just like with our relationships, if we are attentive, the rewards are great. Do not walk away too long from the cooking pudding as it needs to be stirred often, and turn down the heat if it bubbles too much. 
MORE: Check Out This Recipe For White Chocolate Pretzel Chunks
White Chocolate, Pistachio, Cranberry, and Coffee Bark
It is always fun to make your own candy to serve with coffee after a meal and to have around the house to nosh on. It also makes a great hostess gift. Place in a clear bag and tie with green and pink ribbons.
MORE: Jamie's White Chocolate Bark Recipe
As seen in the Joy of Kosher with Jamie Geller Magazine Shavuot 2015, Subscribe Now