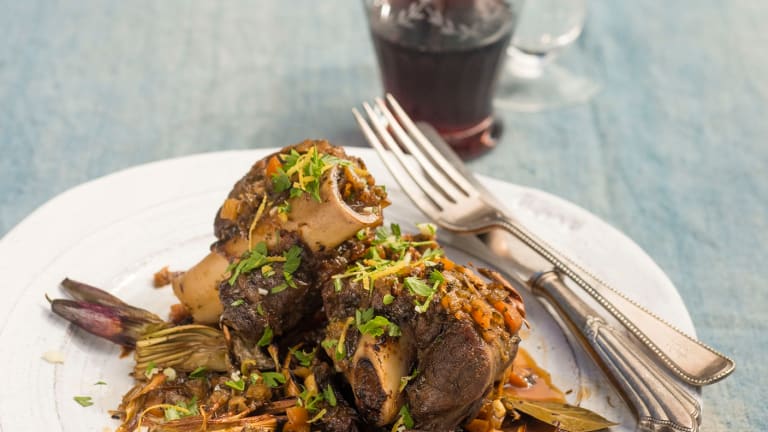 Cookbook Spotlight: The Seasonal Jewish Kitchen
Here, at last, is a fresh, new way to think about Jewish food. In The Seasonal Jewish Kitchen, I take you far beyond deli meats and kugel to a world of flavors ideal for modern meals. Inspired by my passion for seasonal cooking, my 150 soul-satisfying recipes (plus countless variations and kitchen ideas) offer a refreshingly different take on Jewish cuisine.  
In my newest book, I trace the delicious thread of Jewish cuisine from its ancient roots to today's focus on seasonality and sustainability. Guided by the lunar Jewish calendar, I've divided the book into six micro-seasons that highlight the deep connection of Jewish traditions to the year's natural cycles. And, I draw on my own diverse food history to bring you a personal cookbook filled with intuitive spins on beloved classics and bold new dishes. From my Iraqi grandmother's kitchri–red lentils melted into rice with garlic slow-cooked to sweetness—to four-ingredient Golden Borscht with Buttermilk and Fresh Ginger and vibrant Blood Orange and Olive Oil Polenta Upside-Down Cake, this is a game-changing approach for a new generation of cooks. You'll find naturally vegan dishes, Middle Eastern fare, and new ways to use Old World ingredients—buckwheat, home-cured herring, and gribenes—in fresh, modern meals.
Whether you're Jewish or not, observant or not, Ashkenazic or Sephardic, this yearlong culinary journey through the Diaspora will have you saying, "This is Jewish food? Who knew?"
Scroll down to enter to win a copy of the cookbook...
BRAISED LAMB SHANKS WITH CRISPED ARTICHOKES AND GREMOLATA
When the Israelites were about to make their escape from Egypt, they were commanded to eat a last meal, standing, dressed, and ready to run. The shank bone on the Seder plate is a vestige of that meal of fire-roasted lamb, unleavened bread, and bitter herb. The commemorative Passover meal, as set forth in the Bible, on the other hand, is to be the exact opposite, leisurely with plenty of time for storytelling. A main course of slow-braised (do-ahead) lamb shanks reinforces the difference between this and all other nights. Lamb and artichokes are a natural pairing throughout the spring season.    
CRISPED ARTICHOKES WITH GREMOLATA   
Pan-fried chokeless tiny artichokes are a modern nod to the Roman Jewish classic, deep-fried carciofi alla giudia. Finished with gremolata, the indispensable Italian seasoning of finely chopped parsley, garlic, and lemon zest, they are delicious on their own or over braised lamb shanks. Try baby purple Fiesole or Campania varieties, which retain a lavender blush after cooking. So-called baby artichokes are actually the small offshoots away from the main thistle of the artichoke plant. No matter how tiny your artichokes may be, you must be ruthless about peeling away the tough outer layers to render them fully edible. Although available year-round, small and large artichokes are at their peak in spring.  
KIGELACH WITH LONG-COOKED LEEKS
At Passover, everyone in the family looked forward to my mother-in-law Florence's kigelach, Yorkshire pudding–like muffins made from matzah farfel (matzah crumbles). She and my father-in-law, Lou, doubled and quadrupled the recipe to make enough for their growing clan. After Fuff passed away, I found her shorthand recipe notes: "heat the CF in the MT" (heat the chicken fat in the muffin tin). Here's her original recipe with my addition of long-cooked leeks, a traditional Sephardic vegetable for Passover. Leeks are at their best this time of year and make these little muffins even more tender and luscious. Serve with roast chicken and gravy, or as a savory snack or brunch accompaniment any time of the year. Use the fat of your choice according to the rest of your meal.  
Reprinted with permission from The Seasonal Jewish Kitchen © 2015 by Amelia Saltsman, Sterling Epicure, an imprint of Sterling Publishing Co., Inc.  
Want stories like this delivered right to your inbox? Sign up now for our *free* JOY of KOSHER Newsletter.