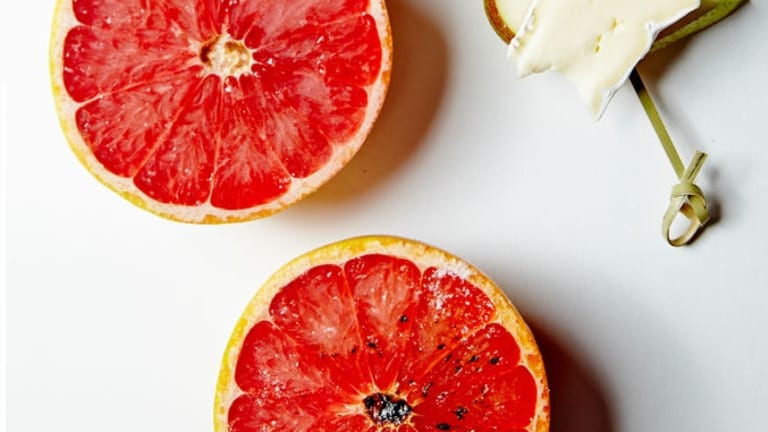 Torch It: More Than One Way to Flambé
On JOY of KOSHER we have shared phenomenal crème brûlée recipes – from classic vanilla to espresso-flavored. As a result, we have quite a few kitchen torches hanging around our kitchen. This made us wonder what other brûléed goodness our torches could accomplish. It was great to discover the versatility of this kitchen gadget and the gourmet treats we were able to whip up in just minutes with the help of our trusty torch.
Tip: Use your kitchen torch to unmold tarts and bundt cakes. Torch the outside of your cake/tart/Bundt pan before unmolding to make the process easier.  
MORE: 2 Ways to Flambe for Lag B'Omer
SEARED TUNA. This is the ultimate way to sear tuna. The outside develops the perfect sear and the inside stays smooth and rare. Use sushi-grade tuna steaks and torch both sides of the steak until well-seared. Slice and serve.
SUGAR SHAPES. Place sugar over cookie cutters or shape sheets, and brûlée. You can also simply brûlée a bunch of sugar and then break it up, so you have crunchy sugar shards to use as dessert toppings
BRIE-PEAR SKEWERS. Perfect for any party. Cut pear and brie into equal-size wedges. Place on skewer. Torch the brie until it begins to melt.
GRAPEFRUIT BRÛLÉE. Sprinkle a generous tablespoon of sugar on grapefruit half. Brûlée until sugar caramelizes. 
BANANAS BRÛLÉE. Sprinkle a generous tablespoon of sugar on banana slices. Brûlée until sugar caramelizes. Serve with ice cream and chocolate sauce for an over-the-top ice cream sundae.
MORE: S'mores Recipes for Lag B'Omer
Article published in JOY of KOSHER with Jamie Geller Magazine Purim 2015 SUBSCRIBE NOW
Want stories like this delivered right to your inbox? Sign up now for our *free* JOY of KOSHER Newsletter.