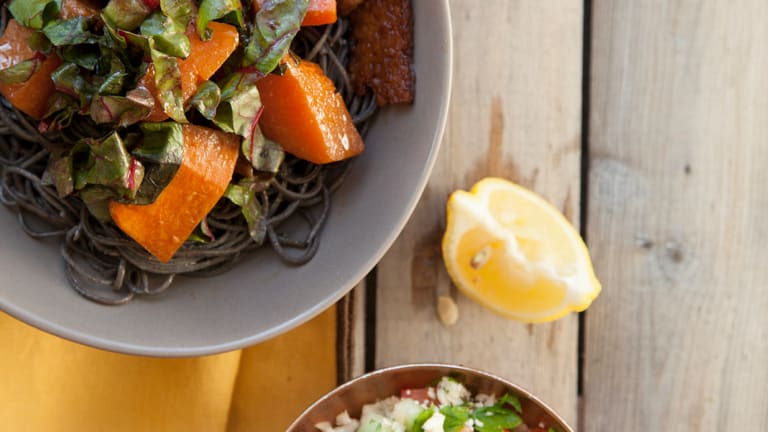 Vegan Cuisine: It's Now Easier Than Ever
Lately, upscale mainstream restaurants are expanding meatless offerings beyond steamed and stir-fried vegetables and tofu. The myth of "healthy" being equated to "flavorless," "bland" and "boring" is fading into history. 
In supermarkets, a vegetarian can buy a kosher product labeled "pareve" and be confident that it contains no trace of milk or meat, thanks to the exacting standards of kosher certifying agen-cies such as the OK. According to vegan chef Ariane Resnick (whose clientele includes Gwyneth Paltrow and Agustina Picasso), and The Conscious Cook author/chef/restaurateur Tal Ronnen, (Alicia Silverstone, Oprah Winfrey and Arianna Huffington are fans), "plant-based" cooking has something to offer everybody, from meat eaters needing to bring more vegetables into their diets, to those interested in weight loss, addressing food allergies and, yes, keeping kosher.When advising her clients in their own cooking pursuits, Resnick suggests that when looking for a dinner entree, find a favorite side dish and think about how to bulk it up into a main dish. For example, kasha varnishkas, which already have buckwheat and a good amount of protein, can be enlivened with vegetables, nuts or beans. She also advises looking into vegetable-based recipes and ingredients outside of the standard Shabbat lexicon, such as a lentil-based loaf or stew. In winter, you can brighten a lentil-based stew with dried apricots, cranberries and other fruits.  
"I have witnessed growing parallels between kosher and macrobiotic dietary practices", observes M Café chef Lee Gross, "especially through the Eco-Kashrut movement, which broadens the scope of the kosher diet and lifestyle by addressing the ethical, social and environmental implications of our daily food choices. Besides the myriad health and environmental benefits of the macrobiotic dishes my restaurant focuses on, they are plant-based foods. Avoidance of meat and dairy foods means vegan food is inherently kosher, which makes everyday meal planning easier." (Editor's Note: Vegan restaurants and food require a kashrut symbol in any establishment in order to be considered kosher.)
Vegan & Beyond, Defined
Vegetarian: A diet that excludes meat and any by-products of animal slaughter, such as animal-derived rennet and gelatin. Vegetarians eat dairy food and eggs. 
Vegan: In addition to the requirements of a vegetarian diet, vegans do not eat food produced by animals, such as eggs, dairy products, or honey. 
Raw-vegan:   A vegan diet in which food is only eaten in its raw state. 
Semi-Vegetarian:   
Flexitarian: occasionally consumes meat
Pescetarian: includes fish but not meat
Plant-based diet: a loosely defined term referring to a diet which focuses on plants (vegetables, fruits, legumes and grains) as a main source of nutrients, however, some keep it strictly vegan while others eat meat, fish and/or dairy.
Favorite Vegan Cookbooks
1. Oh She Glows, by Angela Liddon: Breathtaking photos and a variety of delicious recipes and practical tips will convince almost everyone to try out veganism.
2. Mayim's Vegan Table: More than 100 Great-Tasting and Healthy Recipes from My Family to Yours, by Mayim Bialik: 100 of Mayim's favorite vegan recipes plus a comprehensive explanation of the nutritional aspect of eating vegan. 
3. The Simply Raw Kitchen: Plant-Powered, Gluten-Free, and Mostly Raw Recipes for Healthy Living, by Natasha Kyssa: An inspiring collection of mostly raw, whole-foods recipes that make eating whole-foods in its most natural state accessible and relatable. 
Try these delicious homemade vegan meals, provided by celebrated vegan chefs:
Recipes published in JOY of KOSHER with Jamie Geller Magazine Purim 2014 SUBSCRIBE NOW
Want stories like this delivered right to your inbox? Sign up now for our *free* JOY of KOSHER Newsletter.