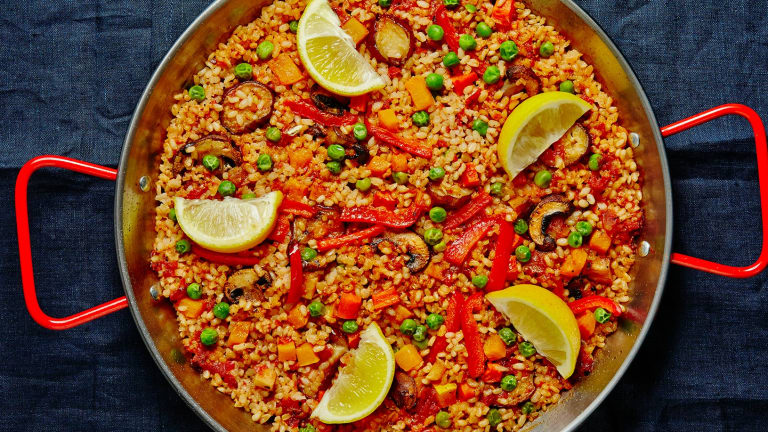 Main Dishes That Can Make Anyone Vegetarian
Vegetables are the new meat! Vegetables are making a comeback!
The food world is heralding the return of the vegetable. I wonder, did vegetables ever really go away? Vegetables are delicious, nutrient dense, and make the possibilities of interesting meals endless. Take another look at vegetables and see if you can't make them center stage in your kitchen. 
MORE: A Vegetarian Shabbat Menu
EARLY AUTUMNAL VEGETABLE PAELLA
There is a time when summer and fall collide. I love that time of year! I can taste the present and future at the same time. Summer tomatoes are giving us a swan song, eggplants are going strong, only to wane soon. Bulky squashes muscle their way into the markets and we add sweaters to our summer clothes. This one-pot meal is a crowd pleaser. The flavors are intense and completely addicting. I go out of my mind for the traditional Bomba or Calasparra rice. The short and chubby grains soak up the saffron liquid and provide a comforting base for the vegetables. If you cannot find those rices, you can substitute with Arborio rice or short-grain brown rice for a healthier variation. The traditional, decadently rich allioli sauce is passed at the table with paella. The sauce makes the out-of-this-world paella even more amazing. 
It is no secret that I love all things mushroom! I can, and often do, eat mushrooms every day. They just seem to find their way into everything! This version of the classic beef dish is a great party pleaser. You can serve the mushrooms in a chafing dish or slow cooker with thick hunks of garlicky toast around it for guests to spoon the mushrooms over. Alternative side dishes would be mashed potatoes, rice, pasta, or creamy polenta. 
ROASTED ROOT VEGETABLES WITH ROMESCO SAUCE
Delicious and earthy veggies with smoky sauce make a perfect fall platter for a light supper or hors d'oeuvre. You can freeze any remaining sauce for 1 month. 
Recipes published in JOY of KOSHER with Jamie Geller magazine Fall 2015. Subscribe Now.
Want stories like this delivered right to your inbox? Sign up now for our *free* JOY of KOSHER Newsletter.