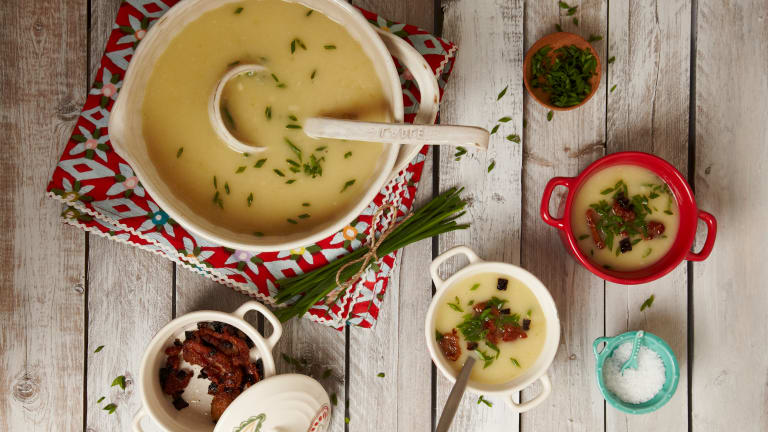 Why Duck Fat is the New Schmaltz
Everything duck has exploded in the kosher marketplace in recent months. Duck confit, whole duck, duck breast, duck fat, and even duck bacon is currently available; opening up an array of recipes for the kosher home cook. One of our favorite duck items this Passover season is duck fat. 
Duck fat is like kitchen gold. 
Duck fat will transform humble ingredients into something spectacular. Duck fat provides a rich, deep flavor to french fries, roasted vegetables and even simple omelettes. It also stands up to high temperatures. 
You must try duck fat in your next matzo ball soup, it will change your life. 
These latkes showcase how great duck fat handles frying and how much flavor the latkes achieve by being fried in duck fat. 
Duck fat makes a great replacement for butter.
Kosher cooks everywhere are always on the lookout for alternatives to butter. Butter enhances recipes with it's unique rich and nutty flavor. Duck fat provides that same layer of flavor, richness and nuttiness so you don't miss the butter in recipes like soup, stews, and even pie crusts. 
We used duck fat to add richness to steak, traditionally basted in butter. 
The duck fat adds a richness that replaces butter in a heartier, healthier way than margarine would. 
Duck fat is considered a 'good fat'
Animal fats contain fatty acids which help our bodies fight disease, absorb vitamins and lower cholesterol. The human body can burn the short-chained fatty acids found in animal fats and will simply store the long-chained ones found in polyunsaturated fat. Some states outlaw the use of trans fats and many companies have voluntarily stopped using them in production of their products. Once touted as a healthier fat and as a substitute for butter, margarine and other processed fats are known to be unhealthy. It is a myth that eating animal fat makes you fat.
In the United States, 315 of every 100,000 middle-aged men die of heart attacks each year. In France the rate is 145 per 100,000. However, In the Gascony region, where goose and duck liver form a staple of the diet, this rate is only 80 per 100,000. This phenomenon has recently gained international attention as the French Paradox — they eat more poultry fat in Gascony than anyplace else, but they live the longest. 
Cooking healthy vegetable side dishes with a bit of duck fat for flavor and richness makes the perfect balance. 
This recipe uses duck fat to combine the rich duck confit and fresh apple coriander relish. This dish makes a wonderful starter or addition to a meat board. 
Resource Guide:
1. You can find duck fat in major kosher supermarkets and online under the Pelleh brand. 
2. You can also make your own duck fat at home. CLICK HERE to see how.