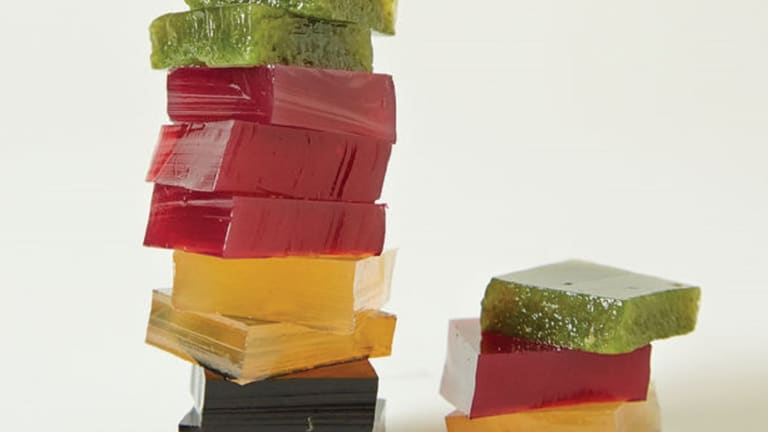 Why Everyone is Talking About Agar
Modernist cooking methods are making waves in kosher kitchens! In previous columns of Joy of Kosher Magazine I've discussed the sous vide method of cooking and the amazing thickening power of xanthan and guar gums. This time we're going to reach deeper into the chef's magic bag of tricks to bring out agar (aka agar-agar, kanten).
 Agar is a plant-based gelatin substitute derived from red algae. It is an off-white powder, available at well-stocked spice stores or online. It doesn't require a hechsher. You might have seen Agar-Agar Flakes available at specialty stores, but don't be tempted to use them. Agar flakes have different properties than agar powder, and won't work properly in our recipes. 
Before you go throwing out all your packets of unflavored gelatin in favor of agar, there is one less-desirable property of agar to mention — its brittleness. You don't normally think of gelatins as being "brittle," but in a textbook physics way they can be. When you take a spoonful of your favorite gelatin dessert, the dessert is soft and melts in your mouth, literally. Agar gelatins don't melt in your mouth, as much as crumble. Which is why agar preparations are usually used in small amounts, unlike a heaping serving of Aunt Edna's Jello Mold!
What differentiates agar from the unflavored gelatin available on the grocery shelves today is its physical properties:
Thermo-reversible — Liquids gelatinized with agar can be re-melted and poured again.
Heat-resistant — Agar gelatins are incredibly stable and won't melt until reaching 176°F. That enables you to serve them warm if desired. Cold preparations won't be harmed by a few hours out of the refrigerator.
Strength — Agar gelatins are much stronger than normal gelatins. It is easy to handle molded items and cut them into desired shapes.
Setting temperature — Agar gelatins set at about 104°F. This is much higher than normal gelatins and your finished product can be ready in as little as 15 minutes.
MORE: How to Make Kosher Homemade Candy
Cut agar sheets into desired size and use to add texture and flavor to soups, salads or desserts:
SERVING TIPS
Cut agar sheets into desired size and use to add texture and flavor to soups, salads or desserts.  
A few cubes of balsamic sheets in a fresh salad give a gourmet flair and an acidic burst of flavor. 
A few diced-up basil sheets in a classic chicken soup provides an herbaceous taste and added texture. 
Slivers of honey sheets served with vanilla ice cream elevate a simple dessert. 
Place fruit juice agar-agar sheets in a fruit salad for a jello-like component to add fun and surprise.
MORE Recipes with Agar Agar...
MORE: What Are Chia Seeds?