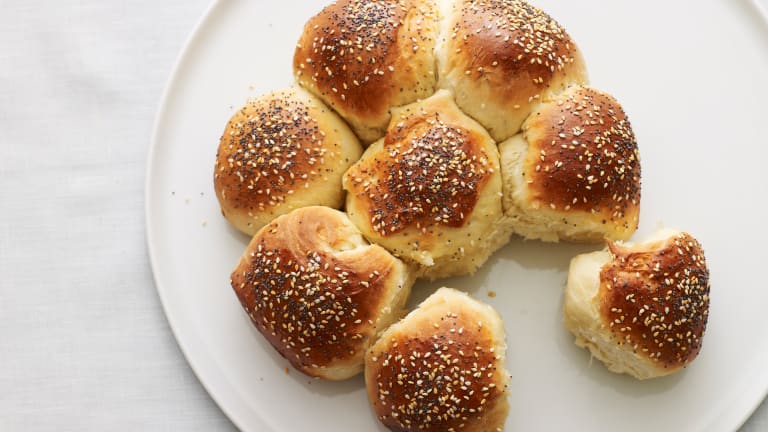 My Top 10 All-time Favorite Challah Dough Hacks
To celebrate my love of challah, I am sharing my top 10, all-time favorite, challah dough hacks.
1. Individual Apple-Stuffed Challah
Nothing sweeter than ushering in Rosh Hashanah with an individual challah bun bursting with apples and drizzled with honey, perfect for the New Year or any time of year.
2. Cilantro Scallion Challah Rolls
For those who savor the savory, small, cilantro and scallion stuffed challah rolls courtesy of Tamar will do the trick.
I'm not waiting for Purim to fill my challah with Sundried Tomato and Pesto Dips – triangles are always en vogue.
My Challah Onion Pockets are filled and topped and really just oozing with caramelized onion goodness.
Tie 'em up and top these knots with garlic and parsley. For more potent flavor, brush with garlic parsley oil for just the last 5 minutes of baking.
6. Whole Wheat Soft Pretzels With Two Dipping Sauces
Turn your braid into a twist. Use your challah dough to make hot, fresh, challah soft pretzels. Follow Tamar's instructions for shaping, boiling and baking pretzels. And instead of classic mustard try her Tarragon Mustard or Chocolate Dipping Sauce.
7. Pretzel Wrapped Brats With Cider Braised Onions
I've made Deli Roll Challah – a total family winner – and Sabich Challah – to die for!  but nearly fainted when I saw these Challah Wrapped Brats with Cider Onions. Why oh why didn't I think of this first?
8. Challah Dough Cinnamon Buns
It was 5 years ago when a Rebbetzin in Chicago shared this genius challah dough hack with me. So simple and so irresistible.
And then Hadassah went ahead and riffed on the Challah Dough Cinnamon Bun hack with this beauty of a babka bun recipe.
And finally, until you've made Chocolate Swirl Bread aka Chocolate Babka from your challah dough, you haven't truly lived.
Want stories like this delivered straight to your inbox? Sign up now for the Joy of Kosher Weekly Newsletter.