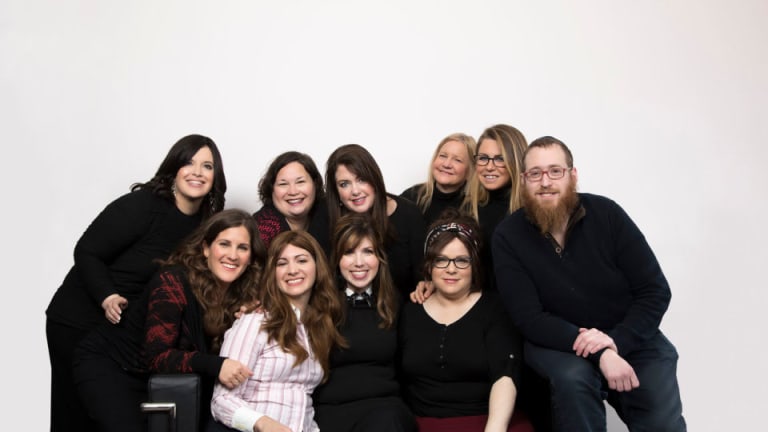 2016 Was An Ahhmazing Year
2016 (5776ish) was the best year ever! And life just keeps getting better. Baruch Hashem = THANK G-D A MILLION TIMES!!!!
Here's a "brief" recap.
Started the year with a new baby, our first Sabra. Born in Jerusalem, Jerusalem (or at least that's what his official US documents say).
Didn't sleep much.
But he was our gift (a total and utterly delicious LOVE muffin!).
Spoke in Jerusalem for Seeach Sod an organization dedicated to providing lifelong support to children with special needs and their families.
Celebrated the TRIPS Bar Mitzvah.
Lost 28 pounds of baby weight for the occasion.
First family photos in a long time.
Happy the baby got to wear his onesie suit ONCE before he grew out of it.
Went into psycho recipe development with Tamar for the 28-Day JOY of KOSHER Challenge
Inspired myself to start exercising.
Got a makeover.
Hello shorter.
And blond(er).
Took my mom as my plus 1 to honor our Chairman and his wife at the Chofetz Chaim Heritage Foundation dinner.
Don't have a picture of us, but here is our illustrious Chairman Henry Kauftheil together with the Executive Publisher of JOY of KOSHER with Jamie Geller magazine, Shlomo Klein.
The Kauftheils could and should be honored all day and all night for everything they do.
Shlepped a box of Hawaiian shirts, grass skirts and leis from Florida to Israel for this year's Purim costumes (cause there are no leis in Israel).
Celebrated my other nephew's bar mitzvah.
Gained back 10 pounds for the occasion.
Celebrated my oldest's 11th Bday, Bas Mitzvah coming up this year, let the dress shopping begin!
Hosted our first Pesach Seder since living in Israel (thanks Greg and Chanie for all the years before).
Watch Hubby grating horseradish for the occasion.
Got audited - but didn't let it get us down (can you hear me WAILING!!!!)
Launched the 28 Day JOY of KOSHER Challenge - so we could all detox from the holiday together.
My dear friend Deborah Shapiro joined our family as VP of Marketing and Operations. People say we look like sisters.
(Hubby calls us Thelma and Louise.) We feel like twins, most of the time, except for when we don't agree--which I guess makes us (soul) sisters.
Headed back to NY for work.
Almost had to sleep on the side of the road when all the hotels were booked for Memorial Day weekend. Deb begged a Sheraton to have mercy on us if for no other reason than the fact that it was my birthday.
Spoke for Federation of Greater Stamford, New Canaan and Darien CT, where I met 3 generations of Lions of Judah. And this was the evening in which I came this close to being a total bust after I pretty much fainted during the cocktail hour (thanks to the lovely ladies that caught me and brought me back to life). I then had to explain to everyone in the audience that I wasn't pregnant and proceeded to give the planned talk after kicking off my heels because I was still a bit unsteady at the start.
But the show must go on...
Celebrated Tamar and Deb's birthdays with a world class lunch at the Waldorf Astoria Jerusalem and fancy din din just off Ben Yehuda.
Deb and team attended the Fancy Food Show in NY.
Went shopping for tiles for our new apartment with our architect, designer and friend Mo Brown of Metropolitan Israel.
He's SO-METRO
Gave a house tour once the flooring, windows, balcony railing and more were all installed.
And started interior design and kitchen dreaming.
Tamar is already enJOYing her new Israel home and dream kitchen.
My son graduated gan aka kindergarten--and I balled like a baby
Started Facebook Live with a weekly ask-me-anything-Q-&-A-series.
Davened for you all at the Kotel.
Made soap.
And Sufganiot.
Went on a family scavenger hunt.
Cooked for shabbos with my girls.
Hit the kitchens of some of Israel's finest restaurants.
Introduced my mom to the world--and the fact that she's looking for her soul mate.
And must have broken some kind of a record for a 12-hour live stream.
Shot a fried matzo ball video and a Facebook LIVE behind-the-scenes look at the process, where it was revealed that our director likes to work in socks (so he can stand on my table!!!! for the perfect shot--Hubby doesn't like that, not one bit).
Chef Laura Frankel joined our team as Culinary Director.
After marrying off her son and a decade as executive chef at Wolfgang Puck Kosher Catering.
She came to Israel and we broke down a chicken, in a flash.
Then we headed to Ft. Lauderdale for a demo at Winn-Dixie.
Then to JAX for 2 TV appearances and a book signing.
We toured our new Jacksonville Headquarters
Then Laura went home. And Deb and I went to Jersey. We drove to Philly for a 1-hour meeting, then on to NY.
Got sick, both of us.
Got some new clothes, because everyone complained that I always wear the same thing. 
Shot 2 days for Kosher.com (while recovering from food poisoning).
Headed to the Lower East Side for an interview with Naomi Nachman.
"Flew" to the airport but still missed our flight to Toronto.
Took the next flight and ate Poutine.
Shot Chanukah videos.
Then back to the airport.
Missed the boarding call for my flight to Tampa--WHILE AT THE GATE!!! cause I was on the phone with airline fighting to change my flight home.
Took the next flight to Tampa.
Shot two segments for a show called Daytime.
Bento box lunches
Costume change.
Then Chanukah latke bar.
Back to NY.
Just showed up at the airport and begged ELAL to get me on an earlier flight home.
My gold frequent flyer status didn't help.
Spent 8 hours in a depressing airport hotel.
Finally made it home.
Cried when I saw the kids.
Rolled into the High Holiday season.
Cried again cause I love it.
Took the entire family to Tzfat
Hubby and I fell in love… deeply, deeply in LOVE… with Tzfat.
We are now saving up for a place in the old city.
Celebrated Hubby's birthday for a week (what a good sport! although he NEVER wants to do that again).
Off to Holland for a challah bake for 400.
Then to NJ for Kosherfest
For demos
Demos
And more demos
Plus the #mannequinchallenge
And our 1st ever Jamie Geller's Kosher Masters Competition
Back to CT for a Chabad "Eat, Pray, Love" Event - I was the EAT part.  Special thanks to my friend Liz from Kosher Like Me who jumped on stage to help with my demo.
Followed by Facebook Live with Matisyahu
And a video with Jew in The City, Mendy Pellin and the Maccabeats
Back to Canada for more cooking videos with none other than Norene Gilletz, Canada's leading kosher cookbook author
Hear what happened to me on the way…
Home to Israel for 12 days
Back to Canada for more cooking videos
Out to LA for Hallmark Channel
Then New York for a PR Tour and a backstage pass to The Maccabeats
Launched MazelMoji (iTunes or GooglePlay)
Home in time to hug my family for Chanukah
Cried again cause I missed them
Lit our menorahs 
In Israel, we light Hubby's menorah outside.
Cried again cause I love Chanukah and cause the 5th night is AY's birthday. And I am just so proud of him.
Happy cause I'm home.
I'm the happiest when I'm home.
Thank you HaShem for all the blessings. Here's to another ahhmazing year, for all of us!