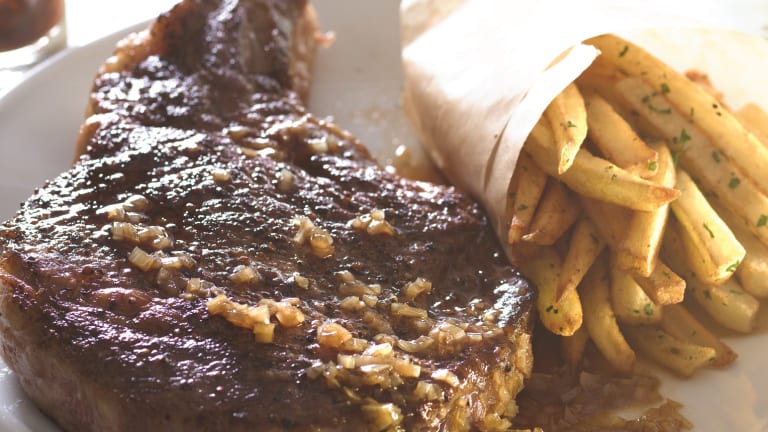 Fancier Than French Fries: 5 Irresistible Potato Recipes
My parents, grandparents and family as far back as we can trace hail from Transylvania. So I always thought it was a little funny and super cute that my grandmother's (a"h) favorite food was onion rings and my mother's favorite is French fries.
Despite it's name, the French fry is not from France. It's actual origins can be traced to Belgium. But it always felt like such a decidedly American treat for my immigrant mother to love. And she really does love herself a French fry. To this day, if we go somewhere, anywhere, and it's on the menu she orders French fries. Sometimes as her main course. 
These "fancier than French fry" recipes are downright awesomeness - because potatoes + salt + oil = just that, awesomeness! Inspired by my mom's love they are just a little dressed up, cause as my kids like to say, their grandmother is "a fancy lady." 
Pommes frites means fried potatoes in French. This process of frying the potatoes twice is called blanching. It helps the potato get a crunchy skin.
MORE: Vegging Out With Baked Veggie Snacks
Using a mandoline will give you uniform slices for uniform cooking. Placing the sliced potatoes in cold water prevents oxidization and removes starch, resulting in a crispier chip.
MORE: French Fries- 2 Ways
Cause sometime you want a potato that's sweet -- with the added benefit of being better for you too!
MORE: 3 Ways to Re-Discover Sweet Potatoes
This is where the Transylvania in me kicks in. I don't quite dust these, it's more like a dunk. But for the faint of heart I've prepared the measurements using a lighter hand. (With Oven Baked Chicken Fingers with a Duo of Dipping Sauces).
MORE: Gluten-Free Potato Bar
So crisp and so thin these shoestring fries are practically guiltless.  
And so my ode to the fancy French fry comes to an end, for now -- until you all share your fancy fry recipes with me in the comments below.
Recipes Courtesy of Quick & Kosher: Meals in Minutes by Jamie Geller (Feldheim 2010)
Want stories like this delivered right to your inbox? Sign up now for our *free* JOY of KOSHER Newsletter.