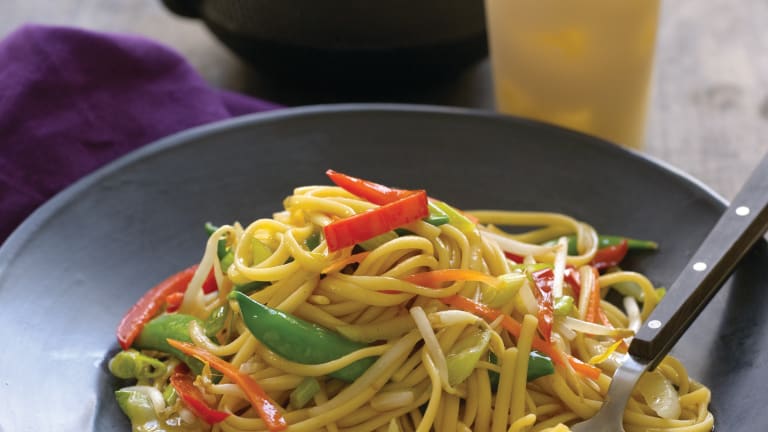 Bring Asian Street Food Into Your Home
Time travel is real.
Food, taste, smell all have the power to transport you through time and space. To your grandmother's house or a street corner in Jerusalem. In fact the smells of street food often permeate vacation memories. The finest restaurants no matter how world-class the chef or how many Michelin stars - sometimes, simply, can not compete with real, good, street food - the best, truest and most authentic way to taste and experience a city, a culture, it's history, it's people.
Asian street food with it's bold, piquant flavors, spicy, salty, meaty and umami-rich foods is so different than America, Italian even Mediterranean fare. My quick and kosher Korean, Chinese, Thai and Vietnamese street food classics will transport you to whichever Asian city street you choose -- all you have to do is cook and close your eyes (not at the same time :-)
Authentic Vietnamese pho is a slow simmered beef broth flavored with ginger, star anise, fish sauce and finished with thinly sliced beef, rice noodles, bean sprouts, and green onions. My fast pho doctors a mix of chicken and beef boxed broth with garlic, ginger, cinnamon and star anise. The meat isn't cooked on a stove but when it is served. The boiling broth is poured over paper-thin strips of beef and the heat of the broth cooks it. Finished with shredded lettuce, jalapeño, cilantro, fried garlic chips and lime wedges this soup is total event.
A Thai street food classic built on rice stick noodles - flat, pale, translucent pasta that doesn't need to be boiled but soaked in water until tender.
Lo Mein, meaning tossed noodles, is a typical Chinese dish featuring soft wheat noodles stir fired with veg (and often meat or seafood) - right up their in familiarity and popularity with egg rolls.
Steamed then stir fried, mixed with eggs and fresh pineapple—this traditional Thai combination is genius. Don't be scared by the term "fried." As you can tell from the small amount of oil needed; it simply refers to the method of sautéing the rice with the vegetables in a wok or sauté pan.
Hands down my absolute favorite recipe from our 28 Day JOY of KOSHER Challenge. It was my pick for the cover of the book but I was out voted cause the beet burgers had more of a summery vibe. But honestly this recipe is worth the price of the book alone! BimBimBop is a signature Korean dish that literally translates to mixed rice. This bowl of warm rice is topped with sautéed seasonal veg, sliced protein (beef, chicken or tofu), a fried egg and gochujang which is fun to say and even "funner" to eat!
What's your favorite Asian street food dish to recreate in your kitchen?