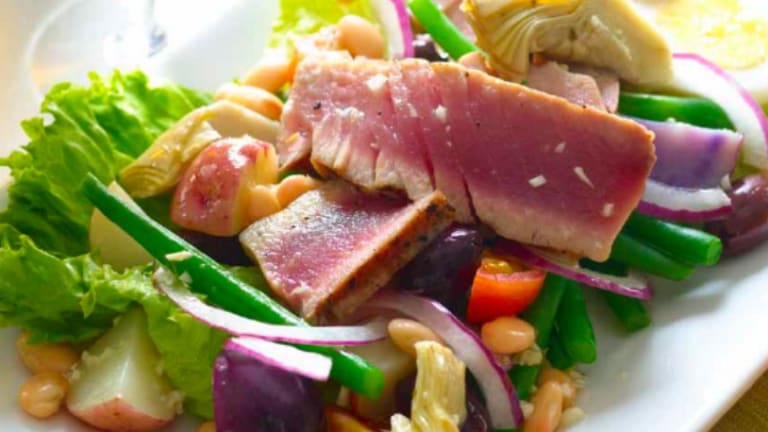 What's the Best Appetizer to Serve at Sheva Brachos?
Dear Jamie:
What's a good appetizer to have already plated for an at-home DIY Sheva Brachos?
Leah Z
I love Do It Yourself entertaining. Though I'm genetically engineered to call in a caterer for a big crowd, there is something so gratifying about doing it on your own! You feel you've really accomplished something, and when people say "This is so delicious! Did you make it?" you can answer "yes" without blushing.
For the uninitiated, let me explain the challenge of a Sheva Brachos dinner. For a full week following a Jewish wedding, the bride and groom are hosted at banquets every single day (or evening). This is to ensure that they will never again fit into their pre-wedding clothes. They start life together as a new couple, with a new diet. Traditionally, there should be a minimum of a minyan (ten men) at this dinner because seven special blessings for the bride and groom are included in the Grace After Meals. (The Hebrew term Sheva Brachos means literally "Seven Blessings.") Now, unless you know a lot of single guys, inviting ten men means inviting their wives too, and possibly their children. Do the math, people. We're talking about at least twenty guests at your table.
So this is a high volume meal, and we also want to make it elegant and memorable. The bride and groom will remember nothing, of course. They're oversaturated with rich foods and their brains stopped working after the second night. But you want the guests to remember it, at least until they get home.
And you want to be able to serve everything quickly and easily. You also want to take latecomers into account (typically the bride and groom). After all, you don't want to greet them with, "NOW you show up? My roast is ruined."
But let's start at the beginning. Apps are so important -- they are your intro to the meal, setting the stage and tone for what's to come.
Leah, I see that you are one smart gal: starting with something that's already plated takes some of the stress off your shoulders. You have enough to do greeting everyone, making sure the bride and groom are comfortable and keeping an eye on your main course. Starting with a plated app frees you up to be the mostess.
You want something that is best served at room temperature and that won't sog if it takes folks a few extra minutes to find their seats. Here are my favorite starters. Take your pick.
Chilled Salmon with a Duet of Dipping Sauces
I use the term "chilled" loosely. Just don't serve this warm! Room temp is perfect, and if you make both the wasabi scallion dipping sauce and the dijonnaise, the dish is doubly fancy. You can decorate the bottom of the plate with the sauces. Take special care to trim each fillet equal size so that it all looks uniform and inviting when people enter the room. A fresh lemon wedge or lemon twist on each plate finishes off the look.
Avocado and Seared Tuna Steak Salad
Now this is a gorgeous fresh delicacy. Choose Yellowfin sushi-grade tuna; the dressing is made from lime juice, olive oil, wasabi, and Tabasco sauce. Despite these ingredients, the dish isn't too hot and the acid in the dressing keeps the avocados from browning too quickly. But remember that avocados do oxidize once out of their skin, so this dish needs to be prepped just before the first guests arrive. If you think there will be major dilly-dallying, skip this one.
Israeli Salad Plate -- Turkish Salad, Charif, Hummus, Tahini, Israeli Salad and Israeli Cabbage Salad
Choose 2 or 3 of your favorites and pre-plate them with a few homemade pita chips, hot pita bread, colorful tortilla chips or gourmet crackers and add bowls of pickles and olives.  You could also simply put bowls of these salads on the table and let everyone serve themselves as they come in. 
Bowties with Salmon and Peas in Lemon Dill Sauce 
This is a colorful, light starter. 
Melon – or any fruits in season with or without the extras like cucumbers and cheese – lightly dressed in fresh-squeezed lime juice and fresh mint leaves looks gorgeous and tastes refreshing.
I just love a good Nicoise salad - string beans, red bliss potatoes, tuna steak, artichoke hearts, fresh tomatoes on the vine, hard cooked eggs, white beans and romaine, lightly dressed.
Long Grain and Wild Rice Salad
Works as an app or a side, savory with a just a touch of sweet, perfect to balance any main course. 
Super simple and incredibly yummy, everyone loves this salad and it can be served cold or at room temp. 
All these three salads are best at room temp and the flavors are enhanced as they sit in the dressing (and they don't sog.) You can choose one, or do a medley of three and present them in a lettuce cup (one nice large lettuce leaf or a nice red cabbage leaf.)
Chilled Soups are good starters too.  This one is my favorite. Make it with frozen mangos and strawberries and it will hold its chill nicely while guests arrive. Alternatively, make it beforehand and keep it chilling in your fridge. Also, chill your bowls, then pour and put them on the table just before guests arrive. Another choice would be Quick Gazpacho. Serve it in a chilled mug. How homey!
Mazel Tov and good luck with your Sheva Brachos!
Please send pictures and let us know what you choose and more importantly what everyone thought of your starter.