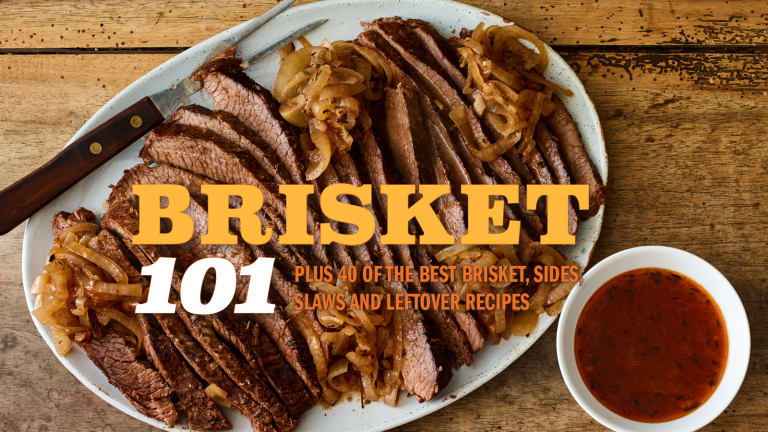 Brisket Class Is Now In Session
Everything you ever wanted to know about brisket.
I have another cookbook in print! 
And this is one you're definitely gonna want. I've taken all the tips, tricks and techniques for perfect, every time brisket and rolled them all into this 100+ page, full-color printed book.
Brisket has some of the tastiest and richest meat and fat of any cut of beef, but it still takes a little practice (and a whole lotta patience) to prepare a tender and flavorful meal from what can be a complex cut.
This book is a true lesson in cooking brisket. From the best way to prepare it, to the preferred way to flavor it, you'll be turning to this book to help you holiday after holiday.
In my Brisket 101 you'll learn:
My 3 Golden Rules for the Perfect Brisket
All about aromatics and how to use them
How to slow cook brisket (and any cut of meat)
How to make your own spice rubs
Plus you'll get 40 recipes for brisket, sides, slaws and leftovers.
Brisket 101 features the following recipes, many of which are Kosher for Passover. 
For the complete Brisket 101 Kosher for Passover Guide click here.
Best Briskets
(Perfect) Classic Oven Braised Brisket
Garlic Honey Slow Cooker Brisket
Spice Rubbed Oven Seared Brisket
Beer Braised Slow Cooker Brisket
Sweet and Sour Cabbage Brisket
Spice Rubbed Brisket with Summer Fruit Salsa
Pomegranate Braised Brisket
Braised Brisket with Dates & Red Wine
Oven Seared Silan Brisket
Argentinean Brisket with Chimichurri
Sides + Slaws
Cumin Roasted Lemon Carrots
Rosemary Roasted Potatoes
Wilted Spinach with Garlic Chips
Baked Spicy Sweet Potato Fries
Dried Fruit and Challah Stuffing
Warm Potato Salad with Horseradish Sauce
Salt and Pepper Noodle Kugel with Roasted Garlic
Creamy Smashed Potatoes with Chives
Hasselback Potatoes with Garlic Parsley Oil
Apple, Celery Root & Kohlrabi Slaw
Israeli Potato Salad / Potato Salad with Arugula and Tomato
Sweet Potato Salad with Tahini
Carrots and Chard Ribbons
Za'atar Carrots with Green Carrot Top Tahini
Extras
Texas Style Barbecue Sauce
Lots of Leftovers
Brisket Stuffed Matzo Balls
Pulled Brisket Shawarma Pitas
Southwestern Brisket Frittata