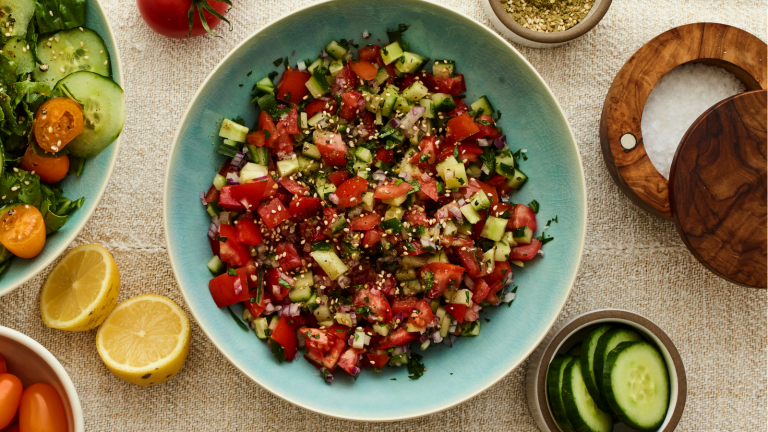 Preparing To Move with 6 Israeli Recipes
I am moving.  Have you heard?  
I know it's hard to ignore something I am shouting from every roof top but as usual I can't help myself.  Well let me tell you as I have told anyone who will listen, I have but a pot, a cutting board and a rusted bread knife plus a bunch of fancy once-a-year serving platters to my name in my NY kitchen.  
So cooking has been a more difficult than usual challenge.  But surprisingly while not pretty to watch I can get a respectable slice and dice out of my overgrown serrated bread knife.  So in honor of my aliyah to the Holy Land I share my favorite Israeli Salatim (translate: salads) that I really should practice in anticipation of my arrival.  
When I get there I bet my Israeli-Iraqi sis-in-law will surely tell me I am doing these all wrong, but until then they are authentic in my book.
Yup I needed a recipe for this when I first got married.  Look I wasn't Israeli and wasn't a cook.  Now I feel confident to use any veggies I have in the house and tear and toss in fresh parsley or cilantro or mint (for the sake of clarity either or, not altogether).  If going dairy I love to add crumbled feta.
Here you will see a video of me in the early stages of my career making this Trukish Salad.  Yup, it's been a while.
I never met a red cabbage before I met hubby.  Now that's of course because I always knew it to be a purple cabbage.  But the recipe editors for my first book made sure to set me straight (uh I still think it looks purple).  This is a Chanie Geller classic (yes my sis and law and I do have the same Hebrew name, difference is she actually goes by hers).  She laughed when I wanted the recipe - mayo, squeeze of lemon, salt, sometimes pepper - not brain surgery she is right but lighter and much preferred to coleslaw.
One of my favorite chummus recipes.  Loads of garlic for my Transylvanian ancestors (shout out mom and dad!).
Not Israeli per say but can certainly blend in at an Israeli salad course if you don't feel like patchke-ing with babaganoush.
The salsa of middle eastern cuisine.  I personally like hot stuff and the fat burning benefits of spicy foods and my dad always called me paprikash which essentially means spicy in Hungarian but really refers to my hot tempered personality - could ya tell?
Which brings to my question:  What food or food adjective best describes your personality?