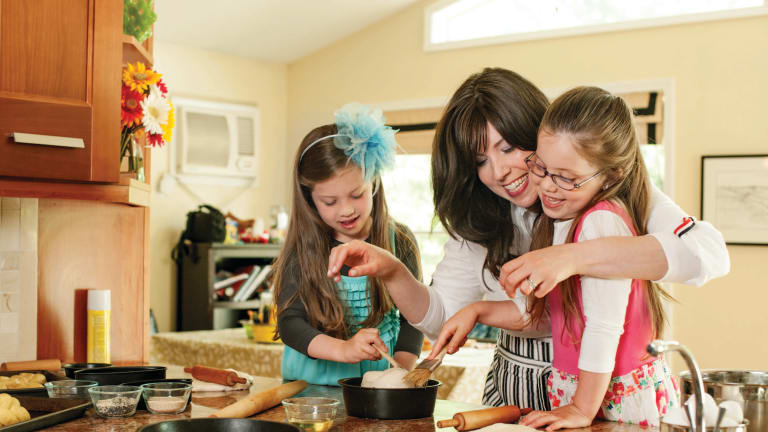 Jamie Geller's Shabbos Plan
Our entire week revolves around the holy Shabbos. It is the glue that holds the Jewish family together. It is a physical and spiritual recharge and the only reason we work for 6 days. Shabbos in our house is so beloved and so cherished that we make sure to do a little something in honor of and in preparation for Shabbos each and every day of the week. I alluded to this on my July 21st Q & A Thursday Facebook Live video and promised I'd write down my schedule for you in a bit more detail. So here it goes.  
Saturday Night/Motzei Shabbos: The Table
We put a fresh white tablecloth on the Shabbos table and place flowers down the center. Now don't freak, but I'm a (good quality!) fake flowers girl -- always in bloom, they brighten my table all week long.  
Sunday: Menu Planning
We plan the menu. Literally fresh off of Shabbos we will often decide to repeat faves from last week, reach back into the archives for oldies but goodies, and try something new -- usually in the form of some recipe I have to test for the site or magazine. The menu gets taped to the kitchen cabinet (along with our weekly dinner menu -- the kids simply must know what they're eating when) and the week is off to a great start.  
MORE: Best Recipes for Shabbat Lunch   
Monday: Shopping Lists  
We create a list of all the ingredients we need separated into categories much in the same way the supermarket is organized -- fresh fruits and veg, shelf stable grocery items, frozen foods, etc. We often have multiple lists organized by location. So the butcher or fish store each have their own list. The more specialty fruits and veg will be on the fruit shop list, there could be a list for the health food store, and so on. (Oh and usually this is the night when we eat Shabbos leftovers for dinner, if there are any).  
Tuesday: Shop and Cook 
On Tuesdays we shop for the non perishables and I actually cook anything I plan to make in bulk and freeze. I usually have some project or another -- whether I'm making 100 carrot muffins, 10 dozen chocolate chip cookies, 25 quarts of soup, meatballs, kugels, cupcakes, brisket and more. Now mind you I don't make them all on the same day but my crazy, busy, insane in the membrane schedule necessitates that I am able to pull some food from my freezer on any given Shabbos -- especially when we find ourselves entertaining at the last minute.  
MORE: 7 Tips For Prep Ahead Shabbat Meals
Wednesday: Set the Table

By Wednesday night we set the table for Shabbos. We do have the luxury of having a kitchen table where we eat all our weekday meals and hang out as a family. So the Shabbos table is reserved especially for Shabbos and that makes me happy. We do a full set -- just in case Shabbos comes early we will be ready!
Thursday: Cook, Bake, Challah Dough

The bulk of the cooking and baking is done on Thursday with the exception of challah. We make the challah dough on Thursday and let it rise in the fridge overnight.
MORE: Shabbat Entertaining Q&A Video
Friday: Shop, Shape, Bake + Fresh Salads
By 8 am Hubby is already home from the center of town with all my final fresh goodies. This is when we prep any salads and make fruit platters.  
By about 1 pm on Friday the kitchen is closed. The kids have had lunch. I've finished cooking, save for some challahs (already shaped) that may still be waiting for their turn in the oven and "the dishes are done man" (extra points if you know where that line is from!). We are now ready to mop the floors - which we do every week in honor of Shabbos. Showers start, beds are made and we are often ready a few hours before candle lighting.   
I absolutely loathe the feeling of rushing into Shabbos all "farmisht" which is Yiddish for crazy frazzled. This weekly plan helps us stay sane but more importantly it reminds us of our purpose in life -- each and every day.  
I would love for you to share what you do to make Shabbos special in your home.  
Want stories like this delivered right to your inbox? Sign up now for our *free* JOY of KOSHER Newsletter.
Main image at top courtesy of Zoe Berkovic