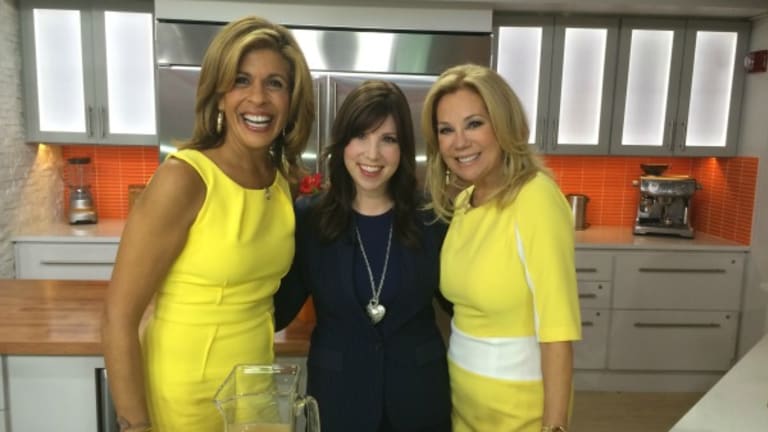 Jamie Geller's Today Show Appearances
Cooking on the national stage is such an honor - an honor I do not take lightly.  Even more important than sharing favorite family recipes on morning show television I feel I am sharing a part of the Jewish story with America.  
When I first started in the biz it wasn't a given that national talk shows showcased Jewish holidays and so I never take for granted the opportunity to share a taste of our culture, our heritage, our history with audiences across the United States.  As I celebrate my 11th appearance, here is a look back and what we've made, how we've laughed, and the way we celebrated the holidays together on the Today Show.
2014
The first time on the Today Show was for Rosh Hashanah in 2014 with Kathie Lee and Hoda.  I made Apple Parsnip Soup and Chicken with Roasted Fall Fruits. 
My first appearance went so well they invited me back for Passover!  This time I made Light and Fluffy Matzo Balls and Garlic and Honey Brisket.
2015
In 2015 I came back for Passover, this time I was 6 months pregnant with my 6th child and I shared 4 ways to use matzo in Pear, Tomato and Goat Cheese Matzo Pizza with Arugula, Matchos, Matzo Brei Bake, Matzo Bark. 
2017
In 2017 I made my Overnight Brisket and No Knead Challah with Al Roker for Rosh Hashanah.  
Then for Hanukkah...
I made latkes Latkes with Megyn Kelly, but I didn't just make latkes, I made Reuben Latke Sliders and Fancied Applesauce, and Egg & Cheese Latke Sliders, it was a Hanukkah to remember. 
2018
So, I came back on Megyn Kelly to launch my Brisket 101 Book and I shared all my tips, tricks and techniques for Perfect (Every-Time!) Classic Brisket. Plus I shared two of my family's (kid-friendly!) favorite brisket leftover recipes, BBQ Brisket Sliders and Brisket Tacos. 
For Passover, I showed Megyn Kelly how to make my light and fluffy Matzo Balls, my Matzo Balls in a Bag, Matzo Ball Dippers, and Matzo 7 Layer Cake.   
Back with Hoda and Kathie Lee for Rosh Hashanah, this time I made my Oven Seared Soy Silan Brisket and Apples and Honey Cake. 
For Hanukkah, I made Latkes and Babkas with Carson and Dylan when I debuted my No Mistaking Baking Book. 
2019
I came back to the Today show for a holiday Make-ahead Monday where I made my Classic Oven Braised Brisket and used the leftovers in BBQ sauce to pile on top of, or sandwich in between my favorite latkes. Also try sautéing shredded brisket with shawarma spices and stuffing in a pita with all the fixins.
2021
This year I couldn't get to visit the Today Show in person, but I was happy to cook live virtually from my home studio kitchen where I made Brisket for Passover and turned the leftovers into a frittata.  Watch the full video here. 
And here's a 2:00 minute look back at the laughs, love and applause from live television.