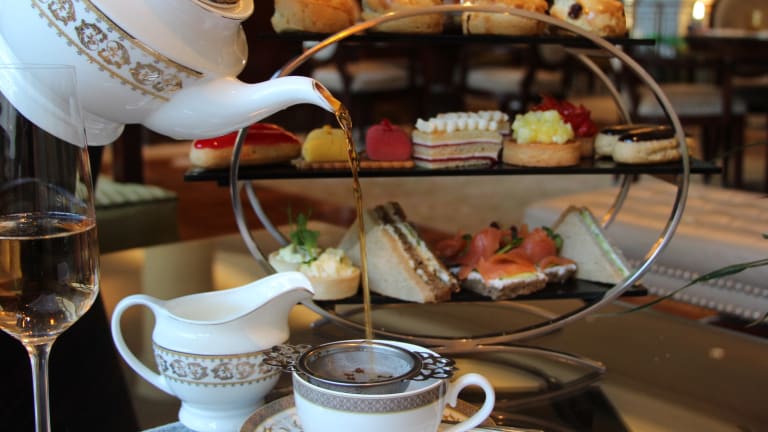 Jerusalem's First Ever Kosher Afternoon Tea
I am essentially Posh Spice trapped in Sporty Spice's wardrobe. So when the Waldorf Astoria Jerusalem called to invite me to an afternoon tea - sconces and fruit tartlet workshop - I laced up my sneaks and ran.
You know me long enough to know I like the finer things in life. Have my mom entirely to blame for my "caviar" taste. She introduced me to afternoon tea as a pre-teen. And I've been hooked on those little triangular cucumber sandwiches with the crusts cut off ever since.
See, told ya so.
And here's a red pepper pesto version on whole wheat cause I couldn't help myself.

And finally, the ultimate Jewish tea sandwich...
If you're lucky enough to live near or visit Jerusalem you can leave your little crust cutting knife on the kitchen counter cause the Waldorf Astoria Jerusalem has just launched the first ever, kosher, afternoon tea in all of Israel. (If there's a kosher afternoon tea somewhere else in the world you must tell me!)
Scones, the sweet rolls that are an inseparable part of the tea ceremony are served with jam and butter or rich English cream. I slather them with all three. 
Watch: How-to make scones with me and Chef Claude.
"The British afternoon tea is made of small cucumber and cheese sandwiches, smoked salmon and classic egg salad alongside scones, sweet pastries and cakes. It is designed to stem hunger between lunch and dinner. All served in prestigious porcelain with silver butter knife, dessert forks and teaspoons", explains Waldorf Astoria Jerusalem Pastry Chef Claude Ben Simon. 
Claude is a classically trained, authentically French, world-renowned pastry chef whose work is steeped in tradition, yet always innovative.
Inspired by his locale, Claude and the Waldorf Astoria Jerusalem are also offering Middle Eastern Afternoon Tea including mille-feuille with tahini cream, sweet pita bread with halva, a variety of baklava pastries, spiced cardamom cake and espresso mousse with caramel and cinnamon. Served alongside these sweet delights are dried fruit and mini-sandwiches of pita bread and grilled red tuna, tortillas with tahini cream, roasted eggplant and egg.
In addition to the delectable food options, you can choose from a dozen Ronnefeldt teas, including Darjeeling, Assam Bari, Peach, Bora Bora and more. I recommend fresh mint tea with the Middle Eastern option - that's my posh spice alter ego talking.
Tea is served Sunday through Thursday 3:30pm-6:30pm. Hurry, before Passover, since this special promotion is chametz! And make sure you tell Chef Claude (my fabulous French friend) I sent you!