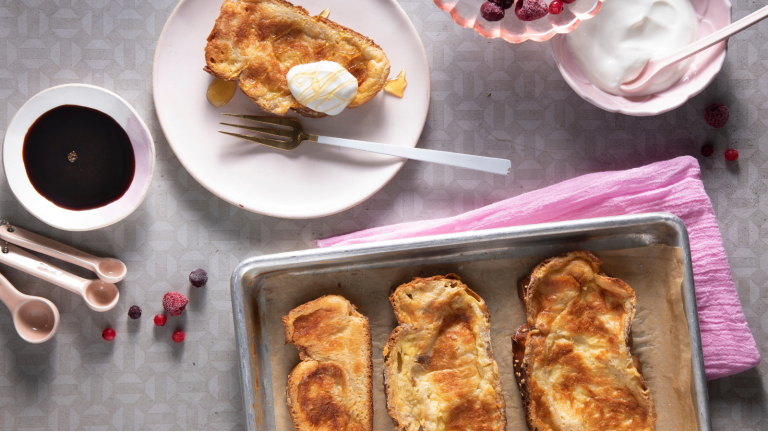 Mother's Day Breakfast in Bed - from the kids
Nothing makes a child happier than to do grown-up things. "Let's surprise Mommy!" is a call no kid can resist. It makes them feel special and gives them a sense of accomplishment to surprise their mom with something they did especially for her on her special day.
Let's get real. Most of the time, this will not happen with youngsters unless a parent is involved. So nu, it wouldn't hurt if you gave your hubby a hint or two about what surprises you'd like (and which ones to avoid, if you get my drift.) The kids don't have to know.
You can help them out in advance by letting dad know where to find the breakfast tray (or where he can buy a cute, cheap one – let's say Target or Bed, Bath and Beyond) to serve you breakfast in bed – should they want to, of course.
Ok, so now you've engineered Breakfast in Bed. First tip to Daddy, of course, is a "not before" time frame. A really nice gift is to let Mommy sleep. Beyond that, leave it to them; but here are few suggestions:
Don't make it too complicated.
Fresh Squeezed OJ – the perfect start to your morning, even a young child can squeeze the juice out of a couple of oranges.
Toast Points – or even more fun, toast fingers, imagine your favorite bread lightly toasted, smothered in preserves and cut into strips lengthwise.
Layered Treats: A breakfast parfait is as simple as layering a few favorites in an attractive glass. Buy disposable parfait cups, or point out to your husband where to find the dessert cups on a stem. Don't have those -- even wine or champagne glasses are great for a layered treat. Yogurt sprinkled with granola and fruit in elegant stemware is even simpler than layering for the littlest ones.
French Toast with the Works: Perhaps Dad can help the kids make some Cinnamon Raisin Challah French Toast – as long as someone remembers to buy and keep the leftover raisin challah from Shabbat or even easier go for Sheet Pan French Toast.
Here are 3 fun French toast or pancake topping ideas I got from the Martha Stewart Living magazine "Top Secret for Kids' Eyes Only" Mother's Day supplement.
• Bananas For Nuts and Chocolate = sliced banana + chopped hazelnuts + warmed chocolate spread (such as Nutella warmed in the microwave for 30 seconds)
• Blueberry Maple Bliss = blueberries + chopped toasted walnuts + maple syrup
• Strawberry Sunshine = sliced strawberries + light brown sugar crumbles + whipped cream
True, by eating these, you risk becoming one big Mama, so you might opt instead for some healthier lower cal snacks (also from Martha – love her!). Be sure to direct dad and kids toward what you'd prefer.
• Fruit skewers – honeydew, cantaloupe and pineapple balls threaded on wooden skewers try this recipe for fruit skewers with yogurt dip. 
• Mango slices rolled in ground toasted coconut or strawberry slices dusted with confectioner's sugar
• Yogurt honey dip – plain or vanilla regular or low fat yogurt with a squeeze of honey in the center and swirled in with your spoon for a pretty presentation
When breakfast is delivered by your own excited little waiters and waitresses, does it really matter what's on the tray? Even if it's not exactly what you had in mind, it's so special that they tried! Lavish your child (and dad) with praise and thanks -- and they will glow from head to toe!