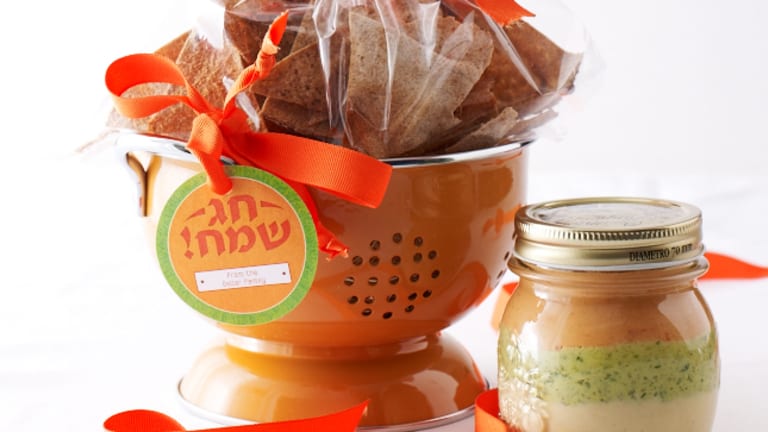 My Most Memorable Purim
My most memorable Purim is a scary scene.  Me with about 60 quarts of soup and 24 pounds of challah dough, crying like a baby at 2AM.
Let me explain.
When we moved to Monsey in 2007 I really wanted to make a splash that first Purim.  The community had been so warm and welcoming and I really wanted to show my appreciation, by making all 60 families (or most of them) mishloach manot.  
Since I didn't grow up in a family that made mishloach manot, or much of anything in the kitchen, when I first got married I frantically attempted to pull something together, at the last minute, only after my husband reminded me Purim was tomorrow.  So I borrowed a page from my friend Anita's book and bought every purple food I could find left on the supermarket shelf, threw it all in a bag, and attached a card wishing everyone a "Grape Purim."  Boy was I ever proud of myself.  No really, I was proud.
A couple of years later we move to Monsey and almost every neighbor stopped by with cupcakes or invited us over for a Shabbos meal.  It was the warmest non-stop welcome wagon in the history of mankind.  Now here is where you remark "but Jamie, you haven't spoken to all of mankind"  and here is where I say "but it really felt like that, do you have to take me oh-so-literally?!"
So back to the warm and fuzzy welcome wagon.  By the time Purim rolled around, I felt like I had yet to repay all those lovely neighbors of mine.  Brainstorm...show them all I care with a special homemade shalach munis aka mishloach manot.  That year Purim fell out on Erev Shabbos so I went all certifiable with my theme and decided that each sweetheart of a neighbor deserved a fresh baked challah roll (kneaded that 24 pounds of dough BY HAND!) a quart of chicken soup (used ALL the pots in my kitchen) and then' cause I didn't want to make things too hard (really 'cause I ran out of steam) I threw in one of those cute small bottles of Kedem grape juice (I was hoping they would have a grape Purim, even if I now knew better not to write it on the card).
Well, I forgot I was supposed to hear Megillah reading, I forgot I had 3 small kids almost 3, almost 2 and 5 months, and I forgot that certain things should not be tried at home, under pressure, the night of Purim.  Hubby calmly talked me off that ledge,  I don't believe I slept, everyone got their challah and soup and stuff but I promised myself, actually Hubby made me promise the family...never ever again.

So now I started a new custom.  Since I don't always get to deliver cookies or cupcakes as much as I plan to, or invite the new family over for a shabbos meal, as much as I want to, I use Purim as the opportunity to bring them something special. "Them" of course being that new family on the block or those neighbors I haven't had a chance to get to know as well.  I go down that list and make only 20-30 mishloach manot that can be prepped in advance,  stored without a fridge and that don't require all of my burners.  
A few of my favorite mishloach manot are these Cookie Mix in a Jar.
What's your favorite or not so favorite Purim memory?  This is an equal opportunity call for comments.
Chag Sameach!